American Horror Story: Freak Show
(2014)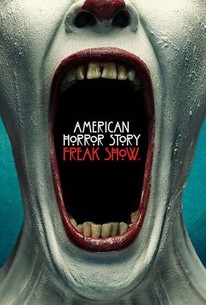 Rate And Review
American Horror Story: Freak Show Photos
Tv Season Info
American Horror Story: Freak Show begins its tale in the quiet, sleepy hamlet of Jupiter, Florida. The year is 1952. A troupe of curiosities has just arrived to town, coinciding with the strange emergence of a dark entity that savagely threatens the lives of townsfolk and freaks alike. This is the story of the performers and their desperate journey of survival amidst the dying world of the American carny experience.-- (C) FX
News & Interviews for American Horror Story: Freak Show
Audience Reviews for American Horror Story: Freak Show
This season was very well paced, and had me on the edge of my seat! The plot was perfectly delivered and the characters were very well written. Ive been watching American horror story since I was 12 and had never failed to be amazing, and freak show was one of the best seasons

I liked this season, however I don't like how peppers story ends that just added bad taste to my mouth, especially after not long ago watching asylum, the worst of this series was asylum. This season explored and gave the audience some adventure. This one is my personal favourite from this series.

This was the first season I ever watched, and it is great. Definitely the most interesting setting in my opinion, which sets up some creepy and scary moments. Many of the characters are great but not to the standards of the previous seasons in general. This season is probably one of the scariest and has some wtf moments, which is part of the reason why it is so great.

Better than season 3 but that's not saying much, it leans in much more to the horror than season 2 and it's actually pretty interesting, not incredibly but enough that I watched it all and actually don't feel like it was wasted time like I do with other seasons like 2, 8, and 9.

This season just has so much heart! And made me cry wayyyy too often lol! Beautiful characters!

I really like AHS and I'm a huge fan but this season was not the best. I think the main problem in this season was that most of characters were very unlikable, there wasn't a main character that you could really root for and genuinely like as a person. Most of the main characters that we get to know do something really bad at some point which makes them really dislikable. So you basically have something against every main character by the end. Dandy (a crazy rich spoiled serial killer who acts like a little whiney boy in a grown mans body) is so annoying the whole season. A killer clown who barely effects the plot at all takes up a whole bunch of episodes for no reason whatsoever. There was so much unnecessary stuff going on in this season, its even a chore to get through it. I'd recommend just skipping freakshow, or if you want to see Pepper's story, then just watch that part. Freakshow definitely had lots of potential for a season, but too much went on and the plot went into too many odd directions and they messed up the characters so much that you can't even enjoy it. Also, this season just felt depressing and strangely uncomfortable to watch.

I found Freak Show to be the most middle-ground season of the bunch. While the first few episodes are stellar, being some of the best in all of AHS, the season falls off very hard shortly thereafter and never recovers. It also suffers from some pacing issues, and there are a lot of antagonists, almost one per episode it seems. Overall meh; not bad not good.

My fav season by far. Can't really decided between asylum and freak show...but freak show had its touching moments and also the last season where you see Jessica Lange's expectational performance and then it all went down to crap after this season.

This season bored me, at first it looked cool, but then it started to get boring

Sarah's performance is so good! the whole cast did a great job on this one!