Bates Motel: Season 1
(2013)
SEASON: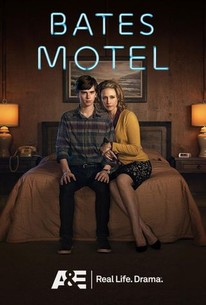 TOMATOMETER
AUDIENCE SCORE
Critic Consensus: Bates Motel utilizes mind manipulation and suspenseful fear tactics, on top of consistently sharp character work and wonderfully uncomfortable familial relationships.
Bates Motel: Season 1 Photos
Tv Season Info
Intended as a prequel to the events depicted in Alfred Hitchcock's iconic film "Psycho", "Bates Motel" follows Norma Bates' (Vera Farmiga) attempt to start a new life running a small town motel with her son, Norman (Freddie Highmore), after the death of her husband. Her hopes are almost immediately dashed when she is sexually assaulted by the motel's former owner, which starts a chain of events that leave her both desperate for income and under the watchful eye of Sheriff Romero (Nestor Carbonelle). The family's twisted dynamics become clearer as time passes, particularly with Norman, whom she constantly manipulates, though her relationship with Norman's brother Dylan (Thieriot) is also far from healthy. Norman, despite suffering from hallucinations and blackouts, tries to have a somewhat normal high school experience, and attracts the attention of Emma (Olivia Cooke), an intelligent classmate who suffers from cystic fibrosis. Though Norman is fond of Emma, he becomes obsessively drawn to Bradley (Nicola Peltz), a pretty, popular student who opens up to Norman in the aftermath of a death in her family. When Norma's relationship with police deputy (Mike Vogel) goes terribly wrong, Norman's behavior becomes increasingly disturbing, and before long he finds himself suspect in a shocking act of violence.
News & Interviews for Bates Motel: Season 1
Audience Reviews for Bates Motel: Season 1
½
I have said this before, others have said it before, and everyone will continue to say it, because it's true. Television is on an extreme high at the moment. One day in the near future that could change, but the quality of television, whether it's on a primetime network, a streaming service, or premium, is definitely where most of the compelling stories lie today. That being said, reboots and remakes are coming at a more rapid rate than ever, even in television. From Lethal Weapon, to Rush Hour, to running out of ideas and rebooting older shows, Bates Motel seemed like it would just follow that trend. Four years after it's initial release back in 2013, the fifth and final season is on it's way. In light of that, let's look back on the surprisingly enjoyably first season of Bates Motel. Riding on the coat tails of Alfred Hitchcock's 1960 film Psycho, it never really seemed as though it would have enough to explore, given the simplicity of the story, especially in prequel form. Psycho is known as a classic, so I don't expect anything about Bates Motel to top it, but that may actually be a good thing. This works as a singular story that will clearly have a sad conclusion. Aside from taking place with the same family, same location, and a few minor references to the classic film, it's very accessible to newcomers who have no prior knowledge of the cinema classic that made this show possible. On it's own, it's very well made and I think that's all that matters in the end. While it does feel odd to build 50 episodes of backstory around a 90-minute film, it does seem to want to do it's own thing, only tying loosely into the classic film when necessary. Playing out as more of character study than anything else, it does provide some great insight into some of the actions that Norman Bates will continue to do in the future. This show progressively becomes more messed up and bizarre as it goes on, but this first season really does feel like a solid thriller, with not too much weight around it. Every episode of this season is solid, but some of the character arcs are completely butchered before they are explored enough, which leads me to my few faults. From the very beginning of episode two, it does feel as though too many characters are being introduced, and while that can be very off-putting at the beginning, it does work very well for the main characters. Everyone serves a purpose here, but it does feel choppy at times. Character motivations seem to change depending on who is around them, which really bothered me throughout this season. On top of that, although I highly commend the writing for this show, there are a few scenes where I was left scratching my head in disappointment. Certain characters would make a decision, but never follow through with it, as if that previous conversation had never happened. It was almost as though the writers forgot to include a few elements. That being said, the rest of this season is an engaging blast to watch. The first season of Bates Motel is very engaging for what it sets out to be. The characters presented are very enjoyable to watch on screen and it makes you feel the need to continue watching until the eventual tie-in to Psycho this coming April. The character of Norman Bates (played very well by Freddie Highmore) is fascinating, especially when he plays off the characters that he doesn't get along with. He seems like such an abused kid that has gotten ahold of his strength, but always seems to be weak around the people who threaten him. I can't wait to see how this series concludes. From start to finish, aside from some big hiccups, Bates Motel's first season is undeniably effective.
½
Full of thrills and suspense, the first season of Bates Motel is a well-crafted re-imagining of Psycho. The series follows Norma Bates and her teenaged son Norman as they attempt a fresh start in a new town by going into the motel business, but complications arise when Norma kills a home invader in self-defense but choices to cover it up. Vera Farmiga and Freddie Highmore are fairly well cast as the leads, but it's Max Thieriot as Norman's step-brother Dylan who really stands out and brings charisma to the show. Additionally, Keegan Connor Tracy plays an interesting recurring character that ends up having a significant impact on the season. Yet, there are some storytelling issues with underdeveloped plotlines and abrupt transitions. Though only 10 episodes, Season 1 of Bates Motel delivers a compelling and mysterious noir drama.
Discussion Forum
Discuss Bates Motel on our TV talk forum!