Bates Motel: Season 2
(2014)
SEASON: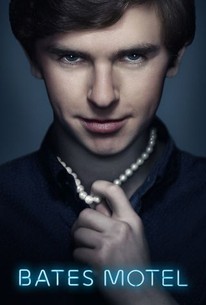 Bates Motel: Season 2 Photos
Tv Season Info
Series 2 starts with Norma getting more and more worried about the impending bypass that is threatening the future of her business and begins to take serious steps to stop it by trying to get a seat on the local council, only to find herself in someone else's pocket. Norman finds himself in a tricky situation with Bradley when she finds herself in a spot of bother and turns to him for help. Later, Norman tries to help Cody with a family problem but makes things much worse after revealing a dark family secret to her, Elsewhere, Dylan has discovered a revelation about himself that he finds hard to stomach and he begins to dive deeper into the local underworld making staying alive harder than it should be.
News & Interviews for Bates Motel: Season 2
Audience Reviews for Bates Motel: Season 2
When a television show is renewed for multiple seasons, it becomes a joy and a fear. Due to a lot of viewers, a show can be picked up for many seasons, but not have any ideas on how to do that, so it completely falls apart, loses viewers and gets cancelled. On the other hand, they could be absolutely praying for a specific number of seasons and have a story ready from beginning to end. Yes, in the case of Bates Motel, is is based off of pre-existing lore, making it much easier to tie up loose ends when asked to. Bates Motel comes to a close this year, most likely tying into Pyscho in the way that Rogue One: A Star Wars story did for Star Wars back in December. Let's have a look back on the very solid second season. While it's a very small world to take from in terms of building off the film, Bates Motel continuously finds new ways of surprising its audience, even if it is in a morbid or grotesque way. Dealing with incest, drug wars, and desires of many kinds, the second season of Bates Motel does not hold back. There are moments throughout season one that felt as though it was trying to hold the audiences attention, by not going too far into morbidity, but that is precisely what makes this second season an improvement. While still sticking with the same characters and tones, we are able to see much deeper into every characters dark past. It can be disgusting to hear about, but it really just makes the show much more engaging. Any great television series keeps the attention of its audience by making sure that not every answer has been fulfilled until the very end. What Bates Motel does so well in season two, is have its big reveals, only to be backed up by another secret being kept from someone. There is an ongoing secrecy with everyone throughout this season, and I loved that aspect. Having to explore the disgusting ramifications left over from the first season, many things are wrapped in a nice bow, while others are still yet to be answered by the tenth and final episode of this season. This is a show that gains momentum as it progresses, getting better with each season. Throughout the first season, Freddie Highmore definitely displayed his acting chops in a big way, but this season is truly where he shines for me. Playing off of every situation as if he had actually experienced these events in his past life outside of this show, I believed every situation he got himself into. Exploring his loss of memory and black outs is the most fascinating thing about this show up until this point. Vera Farmiga is amazing in everything she does, but the interaction between her and Highmore is truly something to love and hate at the same time. Their relationship is extremely strange, but these two performers sell it unlike anything else. While the first season admittedly took this story in a way that no one could have predicted, the second season of Bates Motel only seems to be furthering that. Staying in the same town as Psycho and keeping the story very close to home, it seems as though this premise would have to tie into the film sooner rather than later, but setting it in the present time, rather than back in the early 1960s seems to be working in its favour. Not only does this season improve on its predecessor, but it also makes the audience demand for more, even though the end of the show will be pretty predictable. For the current stories being explored, the sky is the limit. Reality will kick in once the show hits its final season this year, but this is a great show on its own. It becomes very bogged down by the side plot of the drug cartels in my opinion, but season two is great.
½
Season 2 said goodbye to some old characters while bringing new materials into the show, some worked, some didn't but overall there are still enough twists to satisfy fans.
Discussion Forum
Discuss Bates Motel on our TV talk forum!