Bates Motel: Season 4
(2016)
SEASON: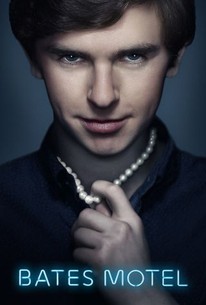 TOMATOMETER
AUDIENCE SCORE
Critic Consensus: Bates Motel fulfills its menacing potential in a fourth season that confidently careens toward the mother-son duo's ghastly destiny.
Bates Motel: Season 4 Videos
Bates Motel: Season 4 Photos
Tv Season Info
Series four sees Norma desperately searching for Norman, while Dylan awaits news on Emma and the fallout from series three strikes.
News & Interviews for Bates Motel: Season 4
Audience Reviews for Bates Motel: Season 4
½
Bates Motel delivered yet another excellent season, actually, the best season so far, especially with the acting from Farmiga and Highmore, it was truly frightening though some of the sub-plots were quite unnecessary.
Psycho is one of the best horror films ever made. Some people may find it extremely dated and the scares that terrorized audiences back in the early 1960s may not be as effective anymore, but for its time, it's incredibly done. Alfred Hitchcock will forever be known for his work on this classic film, and would also be proud that such a solid show has been made that takes place beforehand. The fact that this show takes place in current day with cell phones and flat screen televisions is neither here nor there, but I truly believe this is a worthy successor to the classic film. As we come to the conclusion of this series on February 20th, may answers are still yet to be seen. Is this fourth season of the hit television series the best one so far? As we very patiently await the final season of the show that everyone has been talking about for the past four years, let's reflect on the penultimate season of Bates Motel. Spoilers to follow. Up until this point, there really hasn't been a real sense of happiness throughout this show, and while Norma and Norman have had their moments, their relationship has always been off-putting and creepy. Having Norman finally agree to go to an institution and having Norma fall for Sheriff Alex Romero was easily one of the best portions of this season. It showed that even when someone can be at their lowest, someone else can always bring you back up. This season definitely deals with the darkest themes thus far, but it also showcases some of the lightest moment this show has ever had. I teared up a few times throughout this season, and not due to a character death, surprisingly. Assuming everyone who is reading this has seen this season in its entirety, seeing the transformation of Emma's character was truly remarkable. Dylan caring enough to give her $50,000.00 and move away with her was absolutely a wonderful transition for his character and these two continue to be my favourite characters this show has to offer. Yes, Norman, Norma, Alex, and Caleb are all fascinating to watch on-screen, but these two have always been the most relatable, as far as being around each other goes. These two have come a long way, and even though not many of these characters (if any) make an appearance in the classic film that this series will eventually tie into, I can't wait to see how their arcs come to a conclusion. Look, if you have seen Psycho, you should be expecting this show to take a very dark turn. Now, I won't say that you should definitely be expecting it to fully tie-in to the film, due to the fact that it takes place in a different time period, but they may just end up remaking the plot points of the original. Normally I would be against something like that, but they have come this far in modern day that it wouldn't really make sense for the finale to be a tie-in to the original film. It seems as though they will have to periodically pepper in some of the elements and complete the series with an ending that takes place after the theatrically released film, due to the fact that the ending wouldn't be surprising otherwise. Some may choose to disagree on this statement, but I truly feel that each season improves on their predecessors. The first season was a solid start, the second was great, the third was even better, and I found hardly anything to complain about here. This season has some of the best moments of the entire show, some of the character arcs come to a close, and Norman definitely earns the title of psychopath. Channels like HBO and AMC have proven themselves to have the best shows on television in terms of quality, but there are a few gems out there in the primetime slots as well. Bates Motel has become one of the best shows currently running on the air right now. The fourth season of Bates Motel is amazing and I can't wait to see how this show concludes. Are you as curious as I am? Tune in on February 20th to witness the beginning of the end.
Discussion Forum
Discuss Bates Motel on our TV talk forum!