Better Things: Season 2
(2017)
You might also like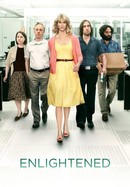 What We Do in the Shadows
Rate And Review
Better Things: Season 2 Photos
News & Interviews for Better Things: Season 2
Audience Reviews for Better Things: Season 2
Season 1 was amusing in patches. Season 2 is pure rubbish. Misandry on the march.

It is funny like 15% of the time. But most of it got boring quick....so this 96% at the moment is ridiculous. It repetitive as hell....and really you can only watch those two annoying teenage faces for so long.

How this gets 96% ?. Mostly dead boring with endless unfunny banality bla bla. There are rare moments it's funny but its too sparse to be considered a good comedy show.

Got to admit it's getting better ¿ Getting better all the time

One of my most love TV series. Witty, honest,often hilarious, great self deprecating humor, and often tender; kudos to the writers. I thoroughly en`joyed seasons 1 & 2. So thrilled for the upcoming 3rd season. I wonder, am I the only one who literally sobbed with tears of joy while watching the 2nd season finale episode? It was a bit odd but tremendously touching and poignant.

Some of the longer episodes drag but it is still great television.

Adlon is great. Funny and interesting to watch.

While Better Things had a solid debut season, it really comes to find its voice in this sterling second year. Realizing the show is just as much about her daughters' fictional counter-points as her own, Pamela Adlon offers much richer characterizations for her trio of young co-stars this year, and it's hard to think of another tv series since Malcolm in the Middle that has had such an ingenious representation of the youngest-middle-oldest sibling dynamic. The writing is indelibly sharp too, as just like Louie the show is as precious as it is hilarious, and it's captured in a way that's simply beautiful on every level. In a year with no new seasons for Atlanta or Louie, FX subscribers that appreciate more subversive comedies with a knack for subtlety will find all they desire here, in Better Things.

Raw, Honest and On Point.

Almost every beat is perfect.