Big Little Lies: Season 1
(2017)
SEASON: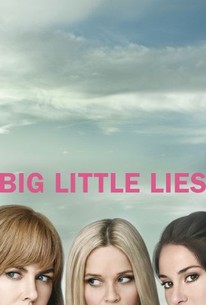 TOMATOMETER
AUDIENCE SCORE
Critic Consensus: Bitingly funny and highly addictive, Big Little Lies is a twisty, thrilling, enlightening ride led by a first-rate cast.
Big Little Lies: Season 1 Videos
Big Little Lies: Season 1 Photos
Tv Season Info
All is not what it seems in this dark comedy set in an idyllic seaside California town, where success, affluence and privilege are slowly but surely undone by secrets, rivalries, deception and murder.
News & Interviews for Big Little Lies: Season 1
Audience Reviews for Big Little Lies: Season 1
½
An extraordinary series whose only defect is a less than 100% satisfying conclusion. Nonetheless, this is stunning filmmaking with a cast that is beyond stellar. Highly recommended for people who like intense relationship dramas.
½
Whether or not you watch primetime television and take a chance on a show being good or terrible, or you're someone who waits to find out if a series is any good once its run has concluded, there are a few broadcasters who are known to have quality content more often than not. While I can't consider myself a huge television buff, as my love is directed at watching films over series, HBO has always offered a plethora of incredible content for me. What I admire about them is that they're not afraid to take risks in the material that they allow to be put into their shows. Whether it's insanely risqué content throughout Game of Thrones or controversial storylines throughout True Detective, they're all about delivering masterpieces before worrying about backlash from certain viewers. Once again, one of their latest shows in Big Little Lies will definitely be disturbing to some viewers, but it's also one of the best first seasons to a new series that I've seen in quite some time. Told linearly while also flashing forward to interviews in order to give clues about what make occur in the future, Big Little Lies follows a group of women and their children as they deal with life's hardships. While many of them are privileged, the fact that they all have issues is what grounded their characters in reality for me. There is a murder on the horizon and many other secrets that are in dire need of answers. These elements are set up within the first couple of episodes and trust me, the payoff is more than worth it. For every slow moment, there's an inciting incident that makes them worthwhile. It may seem slow at times, but I believe every moment was necessary throughout this season. From Reese Witherspoon to Nicole Kidman, Shailene Woodley to Laura Dern, and even Alexander Skarsgård to Zoë Kravitz, this is a cast that seems impossible to even ponder about upon first viewing. In all honesty, aside from Woodley's character in Jane Chapman, every other character has either an annoying or hatable trait. This can be quite tiring at times, due to the fact that it seems like the show wants you to dislike everyone you're following. That being said, there are redemption moments and a few of the characters will be on your good side by the conclusion of this first season. When you're building toward revelations, you need to keep your audience engaged, and that's where I find this show to be the strongest. From the very first episode when Jane moves to this new town and has her son being accused of harassment at school, accusations spark rapidly and friendships are gained and fall apart constantly. This alone builds tension and the addition of sexual abuse, an eventual murder, cheating, counselling, and countless other aspects come into play, making this show an unmissable ride in terms of drama and surprises. The way it jumps forward in time allows you to predict certain things, but how they happened blew me away and I feel as though many viewers will share that same reaction. In the end, as far as first seasons go, I honestly can't see where any improvements can be made. There are a few loose ends to explore in coming seasons, but this season feels very self-contained. Big Little Lies is a surprisingly incredible show that I cannot wait to continue watching. It's meant for mature audiences, but if you're a fan of good television and have yet to check this one out, I cannot recommend it enough. It can be very off-putting at times and certain storylines will slow the pace at times, but it's more than worth your time. If you can get past some of the superficial characters, then I think you'll love this show as I do.
Discussion Forum
Discuss Big Little Lies on our TV talk forum!