The Shrimp Incident
EPISODE: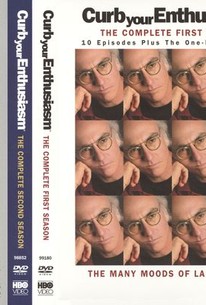 Episode Info
Larry (Larry David) and Cheryl (Cheryl Hines) decide to get Chinese food, but Cheryl wants to stop and have a drink somewhere before they go to the restaurant. Larry doesn't understand the whole concept of going to two places for drinks and dinner when you can just get a drink at the restaurant. After a heated discussion, Cheryl tells him to go and get takeout instead. His woes continue when he brings home the wrong order. Returning to the restaurant, he runs into Allan (Allan Wasserman), an HBO executive. When he was supposed to do his special for HBO (see the original one-hour special, Larry David: Curb Your Enthusiasm), Larry backed out by telling Allan that his stepfather was sick. Due to the restaurant's error, their food orders were switched. The two have an awkward moment, and exchange bags. Larry is shocked when he gets home and finds an unacceptably small number of shrimp in his Kung Pao Shrimp. He immediately suspects that Allan ate the missing shrimp before returning his order. So later when Julia Louis-Dreyfus suggests they pitch his series idea to HBO, Larry is hesitant. But Julia wants to curse on the new series, so they have a meeting at HBO. The pitch meeting ends in disaster when Larry confronts Allan about the missing shrimp. Trying to salvage the deal, Julia invites Larry and Cheryl to play poker with some friends, including another HBO exec, Michael (whom Larry thought was gay), and his wife. The poker game goes south when Larry, upset that Michael folded with a good hand, calls him a harsh term for female genitalia.
The Shrimp Incident Photos
Discussion Forum
Discuss Curb Your Enthusiasm on our TV talk forum!