Club Soda and Salt
EPISODE: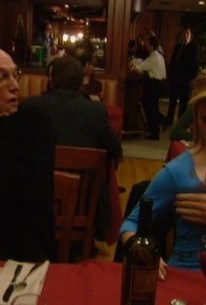 Episode Info
Larry (Larry David) comes home to find Cheryl (Cheryl Hines) laughing it up with her actor friend and tennis partner, Brad (Josh Temple). "Maybe I'll go out and get myself a heterosexual woman to play golf with," Larry suggests. Cheryl says she wouldn't see Brad if Larry would play tennis with her, and Larry says he will. At the restaurant, Larry is amazed when the manager (Jim Staahl) removes a wine stain from a couch with club soda and salt. Then Randy (John Hayman), the chef, tells Jeff (Jeff Garlin) and Larry that he can't handle the pressure of the high-profile job, and he quits. Ted Danson suggests they hire his cook, Josh (Daniel Escobar), but Larry and Jeff insist on giving him a tryout. Later, Larry and Cheryl run into some old friends, who treat them coldly, and Cheryl is embarrassed to realize that it's been over a year, and they never got their friends a wedding gift. The tennis goes badly because Larry is irritated by Cheryl's grunting. Or maybe it's just that she beats him. Cheryl tells Larry she's going to see a play, but is slow to mention that Brad is starring in it. Larry finds chef Josh's food "too saucy." When Cheryl and Larry go shopping for a wedding gift, Larry is accosted by an overzealous saleswoman (Laura Silverman) who doesn't seem to understand the concept of "browsing."
Club Soda and Salt Photos
Discussion Forum
Discuss Curb Your Enthusiasm on our TV talk forum!