The Terrorist Attack
EPISODE: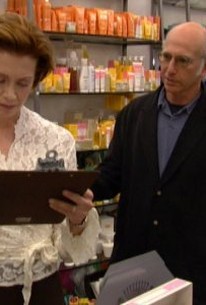 Episode Info
Larry (Larry David) and Cheryl (Cheryl Hines) are out at dinner when they run into Paul Reiser and his wife Mindy (Linda Bates). Larry stops and chats. Afterward, Cheryl chastises Larry for ignoring Mindy, which he was not even aware of. A distraught Larry says, "Now the whole night is...you just can't go out." Larry and Cheryl plan to let their friend Stu Braudy (Don Stark) pick up the check, but he sneaks off to the bathroom when it comes, as usual. Stu and his wife, Susan (Amy Aquino), are hosting an NRDC fundraiser for Cheryl, but they are in some kind of feud with the Reisers, who have not been invited. Alanis Morissette is supposed to perform at the fundraiser. When Larry hears there's a mystery about who inspired her hit song "You Oughtta Know," he says he'll get Morissette to confide in him. The next day, Wanda (Wanda Sykes) stops by to tell the Davids that there's going to be a terrorist attack in L.A. the next weekend. She has a source, and tells them they should leave town, but they can't tell anybody about it. Cheryl won't leave town because of the NRDC fundraiser. Larry suggests that he could go golfing at Pebble Beach. "Then at least one of us would survive," he reasons, "It almost seems a little selfish for you to want both of us to perish." Larry goes to Mindy's perfume store to tell her about the attack warning, in hopes of making up for ignoring her. Then the real trouble starts.
The Terrorist Attack Photos
Discussion Forum
Discuss Curb Your Enthusiasm on our TV talk forum!