Mary, Joseph and Larry
EPISODE: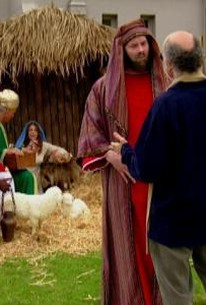 Episode Info
Larry (Larry David) visits Dr. Lynch (Jack Gallagher) because he's got what will discreetly be referred to as "a hair" stuck in his throat. He finds out that it will hurt to remove the hair, so he decides to let it work itself out. Dr. Lynch knows Larry went to see U2 the night before, because Larry's maid, Dora (Dyana Ortelli) told the receptionist. This alarms Larry, who doesn't want people knowing his business. When he gets home, Cheryl (Cheryl Hines) tells him that they have to get a Christmas tree, because her parents are coming for Christmas. This concerns Larry. "There's nothing worse than Jews with trees," he later tells Jeff (Jeff Garlin). Cheryl asks Larry to take care of tipping everyone. He gives a tip to Dora, and tells her not to tell people where he goes. He also tips Carlos (Gary Carlos Cervantes), the gardener. Jeff tells Larry about an elaborate lie he told Susie (Susie Essman) and Larry backs up Jeff's lie, making it even more involved. Jeff and Larry go to the club and work the room, tipping everyone in sight. Larry gets into a confrontation with a waiter he thinks he accidentally tipped twice. He goes home to find Cheryl's parents (Paul Dooley and Julie Payne) and a huge Christmas tree in his living room. Cheryl tells him Dora heard that Carlos got a bigger tip, and suggests Larry take Dora to the club for lunch to make it up to her. This creates more problems Larry runs into Susie at the club. Larry's situation worsens when he eats the nativity cookies Cheryl and her sister baked, mistaking them for animal crackers. Larry decides to go out and hire a manger to replace the cookies.
Mary, Joseph and Larry Photos
Discussion Forum
Discuss Curb Your Enthusiasm on our TV talk forum!