Ben's Birthday Party
EPISODE: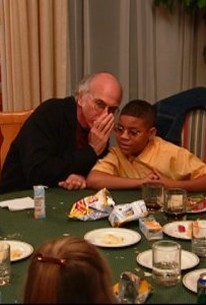 Episode Info
Larry (Larry David) is struggling to learn his dance steps for +The Producers when the rehearsal pianist, Michael (Patrick Kerr), shows up. Michael turns out to be the blind gentleman whom Larry and Richard Lewis helped move back in the first season's "The Bracelet." Michael introduces Larry to his girlfriend, Rhonda (Jackie Hoffman), who has apparently told Michael that she's a model. It's up to Larry, of course, to break the bad news to Michael. Ben Stiller invites everyone to his birthday party, where Larry goes on a spree. He doesn't bring a gift, just because Stiller had said, "No gifts." He insults the glittery sports jerseys that Susie (Susie Essman) has designed. He uses an obscenity while playing "telephone" with a group of kids. He doesn't sing "Happy Birthday" to Stiller with the rest of the group because he doesn't like the song, and to top things off, he accidentally stabs Stiller in the eye with an hors d'oeuvres skewer while giving Jeff (Jeff Garlin) a golf tip. Larry also fails when Richard Lewis asks him to convince Kim (Sarah Ann Morris), the aspiring actress daughter of an old friend, that she doesn't need breast implants. This episode features appearances by Christine Taylor and Cady Huffman.
Ben's Birthday Party Photos
Discussion Forum
Discuss Curb Your Enthusiasm on our TV talk forum!