Dark Matter: Season 1
(2015)
SEASON: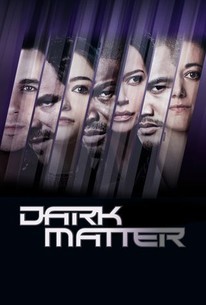 TOMATOMETER
AUDIENCE SCORE
Critic Consensus: Dark Matter's premiere benefits from likable characters and a concluding twist, but its gaping plot holes and worn premise add up to an aimless episode.
Dark Matter: Season 1 Photos
Tv Season Info
Based on the graphic novel series of the same name, "Dark Matter" revolves around a derelict spaceship's six-person crew, who, in the Season 1 premiere, awaken from stasis with their memories completely wiped out. Deciding to call themselves "One" through "Six," in the order they are revived, it soon becomes clear that they have maintained some vital skills, including one who is a martial arts expert, another who can operate the ship, and a teenage girl (Jodelle Ferland) who's knowledgeable about medicine and circuitry. Before long, the humans are joined by a homicidal android (Zoie Palmer) that Two (Melissa O'Neil) quickly reprograms, at which point the robot makes herself useful by reconstructing the ship's data. Eventually, the amnesiacs learn their intended destination: a remote mining colony in deep space that's soon to become a warzone---and they have no idea whose side they are on! Once there, they begin looking for answers to their identities, which are revealed piece by piece over the course of 13 episodes. The cast also features Marc Bendavid, Anthony Lemke, Alex Mallari Jr. and Roger Cross, plus Will Wheaton shows up as a diabolical nemesis for the crew.
Audience Reviews for Dark Matter: Season 1
½
Based on a limited run comic book, Dark Matter is a thrilling science fiction adventure series. Season 1 follows the crew of the mercenary ship Raza, who wake up from stasis with no memory of who or where they are, leading them to band together in an uneasy alliance as they search for answers and decide whether to resume their old lives or begin anew. The casting is especially good; particularly Canadian Idol's Melissa O'Neil, who has a magnetic screen presence and impressive physicality (making her a compelling action heroine). And, the special effects and set designs give a real lived-in, tangible feel to the show's universe. The serial storytelling is also well-done, building multi-episode arcs that are exciting and full of intrigue. Still, the series relies on a number of the common sci-fi tropes; such as clones, evil robots, and warring corporate powers. Yet overall, Dark Matter shows a lot promise and delivers a strong first season.
https://multiscreenmotivision.wordpress.com/2015/06/16/tv-tuesdays-dark-matter/
½
6 people and an android awoke on a spaceship with no memory of who they were and how they got there, they must navigate through a vastly hostile universe to discover who they are and survive. Basically what the consensus described it as, it was surprisingly entertaining if you can get pass the first 2 episodes.
Discussion Forum
Discuss Dark Matter on our TV talk forum!