Requiem for a Gleet
EPISODE: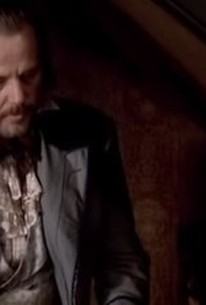 Episode Info
Trixie (Paula Malcomson) is tending to Al (Ian McShane), whose condition is worsening. Doc (Brad Dourif) decides that he may have to perform surgery, which Al would stand little chance of surviving. Ellsworth (Jim Beaver) catches Wolcott (Garret Dillahunt) snooping around at Alma's (Molly Parker) claim and confronts him. Ellsworth is painfully familiar with George Hearst's operation, and makes his disposition toward Hearst quite clear. Lawrence County Commissioner Hugo Jarry (Stephen Tobolowsky) arrives from Yankton, and confirms to Cy (Powers Boothe) and Wolcott that the gold claims will be validated. Panicked prospectors are selling their claims to Cy, who is acting as a front for Hearst. When Alma notes the air of panic in the camp, Ellsworth reassures her. "Panic's easier on the back than the short-handed shovel," he jokes, before noting that Hearst's man's presence in the camp might have something to do with the rumors that have been circulating. E.B. mentions to Alma that the camp is in peril, and she coolly offers to buy his hotel, sending him into his own personal panic. Sol (John Hawkes) suggests to Seth (Timothy Olyphant) that they could use Alma's holdings as collateral to open a bank in Deadwood, but Seth doesn't want to involve Alma. Mr. Lee (Philip Moon), another of Hearst's employees, arrives in camp and makes his presence know in "Celestials' Alley," much to Wu's (Keone Young) dismay. Miss Isringhausen (Sarah Paulson), having lost her job, turns to an unlikely source for help. Carrie (Izabella Miko), the whore Wolcott likes, arrives in camp. Joanie (Kim Dickens) expresses further trepidation about Maddie's (Alice Krige) plot.
Requiem for a Gleet Photos
Discussion Forum
Discuss Deadwood on our TV talk forum!