SEASON: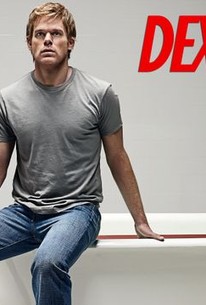 TOMATOMETER
AUDIENCE SCORE
Critic Consensus: America's most amiable serial killer has lost some of his dramatic edge, but this third outing continues Dexter's streak of delivering deliriously twisted entertainment.
Tv Season Info
Series 3 of the drama about the Miami forensic expert (Michael C. Hall) who moonlights as a vigilante serial killer features Jimmy Smits as ADA Miguel Prado, who does more than prosecute homicides---he engages in them. While getting ready to make his move on Freebo, an abusive, drug-dealing lowlife who got away with murdering two college women, Dexter interrupts a two-man skirmish and winds up dispatching one as the other, Freebo, escapes. The victim, Dexter later discovers, is Oscar Prado, the righteous, respected "pride of Little Havana" and Miguel's younger brother. Miguel eventually ingratiates himself with Dexter and it appears the latter is on the verge of having something he's never had before---a best friend. On a trip to the grocery store with Rita (Julie Benz) and the kids, Dexter catches a pedophile buddying up to Cody and must decide whether this sexual deviate fits the Code and is a candidate for Dexter-mination. As Dexter and Miguel become closer, Dexter feels his new pal is on to his dark-side job, so he tests Miguel and the results are most interesting. Soon, Miguel pressures Dexter to work his lethal magic on a "bloodsucking, soulless defense attorney" who keeps putting "murderers, rapists and carjackers...back on the street...to commit more heinous crimes." But hey, she's just doing her job, and that doesn't necessarily conform to the Code, so Dexter balks at taking her out. On the home front, Rita startles Dexter with news that she is expecting, and he's faced with a big-time family decision involving her and her two children. And later, when everyone is on board with Rita's pregnancy, she decides it would be a good idea for Dexter to move in with her, Cody and Astor, but he's somewhat conflicted by this possible major upheaval in his very structured existence.
Audience Reviews for Dexter: Season 3
½
Season 3 remains a strong show that draws on much of the groundwork laid down in prior seasons including the increasingly more interesting supporting cast and some strong new additions to the team. A few more slips than previous seasons and somewhat weaker overall. This season of Dexter begins to more deeply develop the main themes of previous seasons: Can Dexter can ever find a meaningful relationship with someone who can fully know the true Dexter? This season the question revolves around friendship and finding a connection to a fellow serial killer. Season 1 was more about blood family and Season 2 about a love interest. This is a necessary evolution for a show if it wishes to keep going and the narrative threads are tied together with references to the previous two seasons. The supporting cast also increasingly grapples with issues symbolic (although sanitized) of the titular characters issues. All of this adds an extra layer of depth that works fairly well at bridging the continually fast twisting pace of the show. Miguel is an interesting character who has fairly solid moments and chemistry with Dexter. This season pulls back a little from the frantic pace of season 2, but is still more about plot twists and turns than the original first season. The show also continues to progressively get slightly lighter in mood and tone. There are still moments of horror and gore but the dark urgency of the first season has faded. The weaker portion of this season revolves around Dexter's relationship with Rita and her family. A consistent character since the first season this entire story arch feels unnecessary and increasingly makes the show logically more implausible. The whole show is implausible but was generally internally consistent. Rita's increasing interference and Dexter's increased relationship with her makes the mechanics of his entire side job more unbelievable.
½
The same show added a range of new characters, Dexter made a new friend who knows his secret, he is getting married and another serial killer is on the loose. He needs better alibis than ever before. Getting a little bit sick of the comic relief from Masuka and Angel (had nothing to do with the main story), everyone else still had strong performances.
Discussion Forum
Discuss Dexter on our TV talk forum!