SEASON: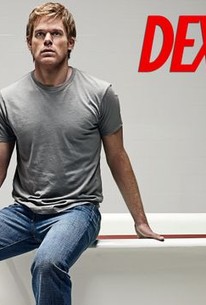 TOMATOMETER
AUDIENCE SCORE
Critic Consensus: Michael C. Hall's remarkable performance invites viewers into Dexter's heart of darkness in a sorrowful fifth season that explores whether a hollow man can become a real boy.
Tv Season Info
Julia Stiles is added to the cast as Lumen Pierce in the fifth series of this thrilling drama. Meanwhile, Dexter (Michael C. Hall) deals with the aftermath of a loved one's murder, and Deb (Jennifer Carpenter) has a frightening run-in with a murder suspect. Peter Weller plays Stan Liddy, while Desmond Harrington, Lauren Velez and David Zayas all return for series 5.
Audience Reviews for Dexter: Season 5
½
Season 5 of Dexter was referred to as a "re-imaging of the series," and it succeeds brilliantly at this. A character drama at heart, this season does an incredible job at developing the main characters and giving them compelling story arcs. In the wake of Season 4's shocking finale, Dexter finds himself broken and lost, and attempts to find redemption in helping a traumatized rape victim track down and exact revenge against the rape gang that abducted and brutalized her; meanwhile Det. Quinn starts to suspect that Dexter is dirty and hires a P.I. to investigate him. The serial storytelling is especially well-done, as the stories move fluidly from episode to episode; staying remarkably coherent and organic. And the guest stars this season, Julia Stiles, Peter Weller, and Jonny Lee Miller, deliver extraordinary performances. Dexter has come a long way, and this new re-imaging in Season 5 makes for an exciting time for the series.
½
Season 4 was a tough act to follow but Season 5 of Dexter continues to shine as an immersing and interesting show. Jordan Chase is a surprisingly strong new nemesis even if he is not as stand out as the Trinity Killer. The finale was thrilling and clever. After five seasons it gets harder and harder to keep up the frantic pace of twisting dramatic turns but Dexter seems to have gas left in the tank. Julia Styles works great with Michael C Hall and continues to explore the nature of his potential relationships with others. Ultimately Lumen's dark passenger is a totally different sort and Dexter loses yet another avenue to humanity. The increasing window into Angel's life is a highlight of this season. He has been a strong recurring character that is pleasantly more and more watchable. Masuka has also really rounded out as an excellent comedic relief piece. He seemed an odd character at the start but has really grown into the role. I ranked this season a little lower than previous seasons. Despite generally being fairly strong, you cannot help but be surprised it kept being good. The premise and structure of the show are intense. Michael C Hall does continue to shine but the show is growing more aged and the simple interactions of past seasons are beginning to break way to increasing dramatic turns. The showrunners seem to be upping the twists and the show has lost some of its more somber and slow building roots. The side characters are no longer as successful as a grounding element as they develop their own increasingly intricate problems.
Discussion Forum
Discuss Dexter on our TV talk forum!