Doctor Who: Season 11
(2017 - 2019)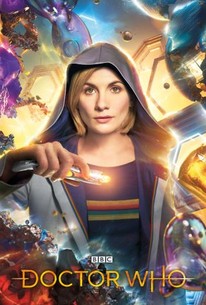 Rate And Review
Doctor Who: Season 11 Videos
Doctor Who: Season 11 Photos
Tv Season Info
Season 11 of this science fiction TV series brings the arrival of Jodie Whittaker as the Doctor. In the season's first episode, the Doctor is searching for her lost spaceship, the TARDIS. That's when she meets Graham (Bradley Walsh), Ryan (Tosin Cole) and Yasmin (Mandip Gill), her new companions. The group then embarks in exciting adventures throughout space and time. Among their travels, they visit Alabama in 1955, meeting Rosa Parks (Vinette Robinson); go to Punjab in the year 1947; and Lancashire in 1612, getting involved in a witch trial.
News & Interviews for Doctor Who: Season 11
Audience Reviews for Doctor Who: Season 11
Bad writing, bad villain's, and bad acting. I lot of the costumes for the monsters reminded me of the 1070's Doctor Who.

Really really boring, and the actor who plays doctor is not interesting.

The first time I watched this series, it was brand new and still being released each week. I didn't like it then because the stories felt so disjointed. But after binge watching the entire revival series from Christopher Eccleston, David Tenant, Matt Smith, Peter Capaldi and now Jodie Whittaker. I actually enjoyed season 11 quite a lot. The writing could definitely do with some more mystery and season long story archs. But overall, I applaud the more episodic story archs this season and greatly enjoyed each one as a standalone story. The first time watching them felt bad because there was not enough action/aliens. But now rewatching it, I view this season as more of what Doctor originally tried to be: an educational look into history and the future. I think maybe the reason some people have trouble watching some episodes and blame it on bad writing, is that some episodes push the tough, hard truth onto you. "Rosa" for example is not hard to watch because of the writing. It's hard to watch because it's so raw and truthful and historically accurate that its hard to watch such pointed racism. But overall it tells a fantastic story that has deeply affected me. Lastly, after rewatching it a second time, I foumd myself immensely enjoying Yaz, Ryan amd Graham. The old, the young, and the experienced. They're not terrifically written, but they are fun, caring and kind, and charitable. And I love seeing them learn about the universe. It's a nice change from strong solo stories like Clara, and charming beautiful solo's like Bill.

Awful acting, cringeworthy writing, all with a side of painfully forced and shallow wokeness. This feels like a bad spinoff of Doctor Who. The only redeeming factor is how low budget this feels, it would only be more insulting if they wasted any more money on producing this trash.

This BS isn't canon - that simple

Rotten, rotten to the core. Abandon EVERYTHING that made Dr. Who great and sacrifice this beloved series in the altar of political correctness and "inclusion".

I actually like the new doctor and I don't care if that's an unpopular opinion nor do I care what anyone comments or even responds to what I have to say. I know I'll be criticized for not watching Who from the beginning. Which is funny because I've watched the Classic Who episodes that are available since not all are thanks to lost footage and what not. David Tenant was my original favorite but that changed when Peter Capaldi came. And Jodi is my second favorite. I know it's not a popular opinion. And those accusing the show of being preachy. It's always been preachy. The Doctor's hatred for guns should have told you that. And so should a lot of other stuff.

Has none of the charm and spirit of precious seasons. For me its just a continuation of the downwards spiral that began with Peter Capaldi (through no fault of his own). Although Jodie does bring a unique flavour to the character I cant say for sure its a good one. No memorable episodes. And I sware to God if the phrase "my fam" sticks around then I'm put. In the words of the immortal 9th Doctor "I don't do familys"

It was just boring. I have no delight watching it.