Ross Kemp and Vinnie Jones
EPISODE: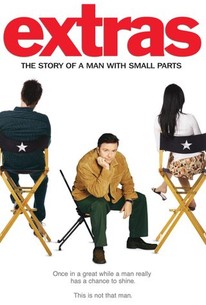 Episode Info
Andy (Ricky Gervais) is an extra in a period film that stars Ross Kemp from EastEnders. His efforts to get more camera time, let alone a line, seem to be fruitless, as usual. "Cut it before the fat bloke gets his face in the shot," is typical of the things one hears on one of his sets. Andy takes some razzing from fellow struggling actor Greg (Shaun Pye), who is working on a film with Vinnie Jones (Snatch) on the same lot. Greg, much to Andy's chagrin, has a line. Andy attempts to talk to Kemp about getting a line in the TV program they're shooting, but Kemp seems obsessed with talking about what a "hard man" he is, claiming to have been in the SAS (though he doesn't seem to know what the acronym stands for). "You best not get into a fight with me," he warns Andy. "Sure, Andy mutters to himself, "or a conversation." When Kemp finds out that Jones is shooting a film across the way, he's disgusted, and dismisses Jones as "a bloody footballer," disparaging his acting talent and his presumed toughness. Later Andy bickers with Greg again, and relays Kemp's comments, inadvertently bringing on a showdown between the two stars. Andy also visits his inept agent (Stephen Merchant), and learns that he also represents Shaun Williamson, also formerly of EastEnders, who is now doing odd jobs. Meanwhile, Maggie (Ashley Jensen) engages in her usual pursuit of on-set romance, this time with Mark (Raymond Coulthard), though she's a bit intimidated by his apparent intellect, explaining that he "reads the big papers."
Discussion Forum
Discuss Extras on our TV talk forum!