The Kiss Seen Round the World
EPISODE: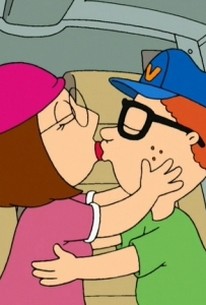 Episode Info
The Griffins visit Toys 'R' Overpriced, where they buy Stewie (voice of Seth MacFarlane) his first tricycle. Later, when a teacher is arrested for teaching "crackpot theories" at Meg's (voice of Mila Kunis) school, a news team shows up, and Meg finds herself smitten with news anchor Tom Tucker (MacFarlane). She has a fantasy about him (a parody of the Phoebe Cates pool scene in Fast Times at Ridgemont High) and decides to apply for Channel 5's Young Anchor internship program. Thanks to co-anchor Diane Simmons' insecurity about picking a pretty girl, Meg is chosen for the internship, but unluckily, her partner intern is Neil (voice of Seth Green), the nerdy A/V guy who has a massive crush on her. Stewie learns to ride his tricycle, while Peter (MacFarlane) proudly videotapes, until he's distracted by the (American) beauty of a plastic bag blowing around in the wind. Stewie has his first encounter with the concept of bullying when Charlie (voice of Josh Peck) steals his new wheels. Later, when the infamous "Mass Media Murderer," known for killing newspersons, is spotted on top of Town Hall, Tom and Diane give Meg and Neil the story. When it seems like the hapless teens are going to be murdered, Meg gives Neil a kiss, which is captured on videotape. In the nick of time, a superheroic Hugh Downs (doing his own voice) comes to the rescue, and Meg has to deal with the ugly repercussions of that kiss. Soon, Neil is handing out T-shirts at school festooned with the image of their lip-lock, and bringing his parents over for dinner at the Griffins'. This episode features the voice talents of Michael Chiklis and Abe Vigoda, along with references to Mr. Sherman and Peabody and Quantum Leap.
The Kiss Seen Round the World Photos
Discussion Forum
Discuss Family Guy on our TV talk forum!