SEASON: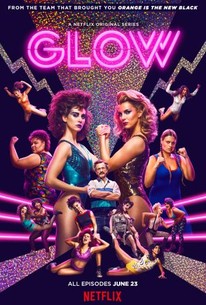 Tv Season Info
Set in Los Angeles during the 1980s, an unemployed actress hopes to find stardom by portraying a female wrestler.
News & Interviews for GLOW: Season 1
Audience Reviews for GLOW: Season 1
GLOW has some winning moments over its ten episode story line, but also some head-drops. Like the predictable world of TV wrestling GLOW telegraphs plot points and botches character development opportunities.Nonetheless it's an entertaining comedy with some excellent performances particularly from supporting cast members.
In a time where films and television shows have been placing females in the spotlight, whether it's big franchises like Star Wars or even action films like the upcoming Atomic Blonde, there seems to finally be a much deserved balance. Back in the day, where actually GLOW takes place, this was definitely not a thing. For this reason and many more, now seems to be the perfect time to release a show like this. Released exclusively on Netflix, this first season of GLOW is a very easy watch at a mere 10 episodes, all being roughly 30 minutes in length. While the outline of this story will seem familiar to some, there is also a sense of originality present throughout this entire season. Feeling fresh and worthy of being told, here is why I believe these first five hours of GLOW deserve your attention. From the very first episode, this show provides insight into the film/television business and reminds viewers just how hard it is to crack into show business. That being said, it has been done before in films like La La Land or even classic films like Singin' in the Rain, so what truly makes this show standout among the rest? On one hand, it almost seems like second nature for writers to commentate about the business they're in, but that also makes for a much more believable show/movie in the end. The writers know exactly how to write these characters, because they themselves have either witnessed similar people or have been those people themselves. There wasn't a single moment where I found myself complaining about these character traits/actions. A television show should be able to hook you on its characters alone. The very notion of having to follow these people for hours on end is a daunting thought, so it all comes down to the fact that the show creates compelling characters. GLOW does this in spades. Throughout each episode, there was a furthering of someones arc and I found myself emotionally engaged in nearly every character. Alison Brie and Betty Gilpin are definitely the driving force of this first season, but the supporting cast all have their time to shine on-screen. I was also pretty impressed by Marc Maron (the director of the show), as I became entranced with how real his character felt, whether good or bad. Where the first season hits a few snags, which is where most shows do, is in its progression of story. Following a group of struggling actresses/drug addicts, GLOW is essentially (and loosely based on a true story) about the making of a women's wrestling show called Gorgeous Ladies of Wresting. Going through the motions as these ladies train and get to know each other, while also diving further into their characters, this is a much more character-driven show than I was expecting, which is precisely where I find my only large issue. I found that there was almost too much focus on the characters, because this first season could've easily been a feature film length if some of it was trimmed down. Although this is an easy watch, it seems as though it could've also benefitted from a solid two hour film, but that't just how I felt. In the end, the first season of GLOW is a highly entertaining five hours of television that is currently available on Netflix, and it's something I believe should be high on your list, simply because it's a quality show that's breezy to view. The cast is terrific, the soundtrack fits very well, and there are many references to classic films that older viewers will get a kick out of. This is a mature show with some pretty serious themes that younger viewers will not understand, but the humour is very dark and very much present. The use of racial stereotypes is offensive, but in a mature way. It shouldn't offend people, because it pokes at everyone, not singling anyone out. Season one of GLOW is a riot from start to finish.
Discussion Forum
Discuss GLOW on our TV talk forum!