Gotham: Season 1
(2014 - 2015)
SEASON: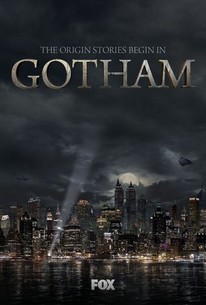 Rate And Review
Tv Season Info
An action-drama series following rookie detective James Gordon as he battles villains and corruption in pre-Batman Gotham City.
News & Interviews for Gotham: Season 1
Audience Reviews for Gotham: Season 1
Amazing there's nothing wrong about it

I love this show. A lot of good and memorable things. The performances, production values, writing, villains, character development and the respect for the physical appearance of the important and popular characters it's a beautiful thing to see.

Esta es la mejor adaptación de todas. No se admiten discusiones.

Fish is annoying and over acted, but the rest of the cast is perfect and the story is a blast.

The plot of the story is very clear. Gotham City is always dark, but the characters of the villagers are always there to show the way the characters are drawn to the light. The curiosity and flavor of the story is maximized. Jim, Harvey, Penguin, Falcone,and babara plays a memorable performance.

Completely unrealastic show in every way. The main villains stay alive no matter what, especially Penguin who scoffs and kills right infront of police face and they do nothing. Cops can't shoot or wont shoot, bad guys rule all day and night. I wonder how Gotham never ran out of people to kill who arent viallains. I wish they followed their own story instead of being so predictable to who lives or dies.

Gotham season one is good but it Takes a while to understand the source material My grade: B

This season started this magneficent show with amazing character build up and a glimpse at what these characters will become

I love this show. The shots, the actors, the storytelling- everything is just so well done! And I like how they don't force feed us with details but rather subtly put them in it so that at some point the audience has a moment like '..wait' and it just blows your mind sometimes. The character development so far is really interesting and I enjoy to see the story revolve around so many characters and how each of the things they do influences the whole story.