It's Always Sunny in Philadelphia: Season 13
(2018)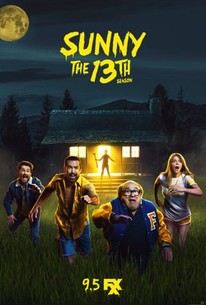 Rate And Review
It's Always Sunny in Philadelphia: Season 13 Videos
It's Always Sunny in Philadelphia: Season 13 Photos
Tv Season Info
In Season 13 of this comedy, the gang have their hands full as Charlie (Charlie Day) hopes to have a child, Mac (Rob McElhenney) explores his sexuality, Dee (Kaitlin Olson) takes feminism to new heights, and Frank (Danny DeVito) tries to experience the greatest moment in Philadelphia sports history.
News & Interviews for It's Always Sunny in Philadelphia: Season 13
Audience Reviews for It's Always Sunny in Philadelphia: Season 13
This show never failed to surprise me everytime, Cleverly written script in every episode, The way rob puts its characters in the right scenario to give the case that the episode talking about iit has more dimensional aspects and to see it from more than point ....Rob has created a MASTERPIECE with his jaw-dropping finale ....its time to change <3

This show used to be funny... these last 2 seasons were mostly boring and forced, there were but 2 or 3 funny scenes the whole season. not the sunny we're used to

The series has sold out to the social justice warrior rhetoric. The characters have been annihilated acting in ways completely contrary to their traits and abilities.

They have put ideology ahead of entertainment. Is this a comedy series or a VOX documentary?

Reviews like "Mac Finds His Pride" is the worst episode of Sunny" show just how truly homophobic and lacking in taste people are. Click on the profile of the critical / 1-star reviews, and check the users' TV reviews and you'll see 1 of 2 things. They've either created their account just to bash this show for giving gay people a space OR their entire review history revolves around critiquing shows for being "too gay". These people are nuts for reviewing a sho based on a political view rather than by its merit of cinematography, writing, choreography, and comedy. This series is phenomenal the whole way through, but the triggered boomers gotta drag their political views into it. Just stop. Enjoy the show, it's a masterpiece.

"Mac Finds His Pride" is perhaps the worst epidsode of Sunny, I couldn't even finish it. Completely forced, horrible pacing, and the entire episode finds Mac struggling over his feelings. Seriously, wtf? Painful to watch.

Consistent and different at the same time. No better show out there.

The character of the show has lost so much of what made it funny and unique from the first half of the seasons that it has gotten stale. The show has attempted to counter that staleness but those attempts have fallen flat and caused the show to lose its core elements. Further, the characters have become exaggerated and uninteresting caricatures of themselves. The subtle aspects of the characters have become so over blown they are not funny. Rather it gives the characters a less naturally comedic feel.

It's amazing that after 13 seasons, the show still hasn't slowed down. The writing remains topical and creative. They are still pushing boundaries and it's a good as it ever was.