Lois & Clark: The New Adventures of Superman: Season 1
(1993 - 1994)
SEASON: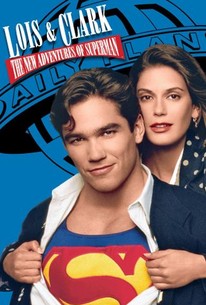 Rate And Review
Lois & Clark: The New Adventures of Superman: Season 1 Photos
Audience Reviews for Lois & Clark: The New Adventures of Superman: Season 1
Best serie of superman ! He is littlerey how rees superman was ! Nice polite and most of all happy to help people ! Unlike man of stell or moody emu superman we have to day 2020 ! How did hollowood fuck up superman so hard ?

This is probably the best season. Michael Landes is a great Jimmy and Cat is a blast. The entire cast has fantastic chemistry and Lane Smith is the best Perry White ever.

loved it, it was a fresh take on superman that was cheesy but good

For it's first season, this show was probably the best version of Superman on-screen up till then and ever since (yes, I'm including the original 70's movies with Reeve and recent doom-and-gloom entries with Cavil). It's mostly a confluence of multiple factors. Superman with his powers creates complications for writing seeing as he could easily defeat just about any nemesis in a battle for brute strength. For this reason (and the limited special effects budget and capabilities), Lois & Clark focused on the detective work done by our news-writer duo. This worked fairly well and gave the superb cast a possibility to shine. Everyone felt fleshed out and real, even our more obvious sidekick-characters like Cat, and Lex Luthor, who in this incarnation of the story is a sociopathic criminal mastermind, rather than a buffoon. There are plenty of opportunities thru-out for Clark to delve into the ethical dilemmas he is faced with as well as to show that being a hero isn't really about having super-powers. Unfortunately, the network apparently felt pressured into changing the show into a cartoony parody in the later seasons, so they could serve up the dumb action they thought most viewers wanted. The foolish decision to rid the show of Luthor and have Lois and Clark hook up came pretty soon after the writers changed, removing the romantic tension and narrative hook that made this series so worthwhile in the first place. That's not to say season 1 was perfect. While the practical effects for Superman look great, the computer effects (thankfully used sparingly) are quite jarring now. The villains outside Luthor vary from believable to slightly cartoony even here. Luthor (played by John Shea) steals the show every time he gets the chance. As per features of the show, rather than shortcomings, the focus on the romance between Lois and Clark, as well as crime-busting might put off some viewers who are more interested in seeing Superman perform fantastic stunts using his powers. All in all an A for the effort, B+ for execution.