Marvel's Agent Carter: Season 1
(2015)
SEASON: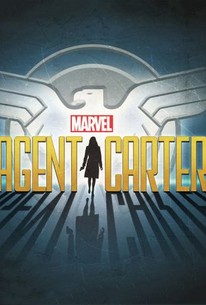 Rate And Review
Marvel's Agent Carter: Season 1 Photos
Tv Season Info
The first season of this action-adventure series follows Peggy Carter (Hayley Atwell) as she returns to work at Strategic Scientific Reserve after World War II. Upon her return, SSR begins investigating billionaire inventor Howard Stark (Dominic Cooper) for selling weapons to enemies of the United States. However, Stark secretly seeks out Carter and asks her to help clear his name. Carter, in direct conflict with SSR, goes undercover to help Stark. James D'Arcy, Chad Michael Murray, Enver Gjokaj and Shea Whigham also star.
News & Interviews for Marvel's Agent Carter: Season 1
Audience Reviews for Marvel's Agent Carter: Season 1
A little slow at the beginning but soon will have you at the edge of your seat wondering whats next.

I just think its brilliant

Im actually impressed i mean the action

I'm watching Agent Carter through Disneyplus and wow it is amazing, exciting and I love all the characters. The plot, storyline is very interesting and was hooked from the first episode. I couldn't stop watching until I was finished with the entire season. Highly recommend this show

This series is awesome dude

The best Marvel show not on netfilx. A fantastic cast and the one of those shows that feels different. The woman empowerment message is really cool.

Great fun, a solid addition to the Marvel universe.

Marvel's Agent Carter is my favorite superhero show, my favorite Marvel show, and one of my favorite shows of all time. Hayley Atwell's performance as Peggy Carter is exceptional, she really gets to shine as the character even more than she got to in Captain America: The First Avenger and she puts so much emotion and strength into her performance and her performance and the character show that a woman can do a job just as good if not better than any man could and she plays a single working woman living in the 1940s having to juggle work, her social life, and dealing with the trials and tribulations of a woman living in the 40s perfectly. Hayley Atwell gives a emotionally powerful and inspirational performance, her performance is one of my top 5 favorite Marvel performances and Peggy is one of my top 5 favorite Marvel characters. The supporting performances are stupendous especically from Bridget Regan, Dominic Cooper, James D'Arcy, Lyndsy Fonseca, and Enver Gjokaj. The setting is outstanding, I love 40s look and it feels and looks really authentic. The makeup and hairstyling is phenomenal especially on Hayley Atwell, Bridget Regan, Lyndsy Fonseca, and Dominic Cooper. The costumes are excellent especially on Hayley Atwell and Bridget Regan. The props are superb especially the cars and guns. The makeup, hair, costumes, and props are all authentically 40s looking. The visual effects are spectacular especially the nitramene bomb explosions. This is an A+ first season.

Nice development of Agent Carter. Hayley Atwell with a strong showing.

A giant missed opportunity for Marvel, which may have pushed the series in a new, fresh direction compared to rather cookie cutter, unified tone of the movies, utilizing its titular character, time period and setting to create a real noir television. They didn't.