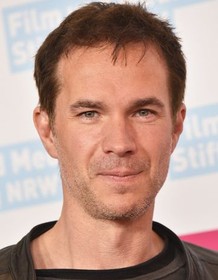 James D'Arcy
Highest Rated: 100% North of Normal (2022)
Lowest Rated: 7% The Snowman (2017)
Birthday: Aug 24, 1975
Birthplace: London, England, UK
James D'Arcy consistently delivered convincing and multilayered performances throughout the course of his career, whether it was playing a British monarch forced to abdicate his throne to marry an American socialite in "W.E." (2011) or portraying an iconic actor who essayed one of the most demented characters in cinematic history, as he did in the biopic Hitchcock" (2012). The classically trained D'Arcy launched his career with a string of appearances in British TV movies and historical miniseries like "Silent Witness" (BBC, 1996) and "Rebel Heart" (BBC, 2001), followed by lead parts in made-for-TV films like Sherlock: Case of Evil" (USA Network, 2002). Playing against type, D'Arcy appeared in many horror films like "Exorcist: The Beginning" (2004) and "An American Haunting" (2005), and delivered a spine-tingling performance in the 2012 thriller "In Their Skin," as a homicidal maniac who keeps a family hostage in their own home. That same year, D'Arcy stepped into the role of Anthony Perkins in the biopic "Hitchcock," bringing to light all of the late actor's nervous idiosyncrasies and unequaled onscreen talent. Further roles in the British crime drama "Broadchurch" (ITV 2013- ) and Marvel's 1940s-set "Agent Carter" (ABC 2015-16), as well as his co-starring role in Christopher Nolan's powerful war film "Dunkirk" (2017), helped prove that D'Arcy was one of Hollywood's fastest rising stars with unlimited emotional range. James D' Arcy was born on Aug. 24, 1975 in London, England, where he also attended school at Christ's Hospital. He discovered his passion for acting around 1991, when he traveled to Australia for a year to work in the drama department of a school in Perth. Upon his return to London, D'Arcy enrolled at the London Academy of Music and Dramatic Art, where he earned a bachelors degree in 1995. During his three-year course at LAMDA, D'Arcy honed his acting skills by appearing in various plays like "Heracles," "As You Like It," and "Sherlock Holmes," among many others. He began his transition from stage to screen actor with appearances on popular crime dramas such as "Silent Witness" and "Dalziel and Pascoe" (BBC, 1996-2007), followed by minor roles in TV movies like "The Ice House" (BBC, 1997), about a decades-long murder investigation involving three lonely women. D'Arcy continued to pad his résumé with a featured role in the war drama "The Trench" (1999), where he played one of the more cynical and educated soldiers of the group, who are stationed in the Western Front trenches 48 hours before the historic Battle of the Somme. In 2001, D'Arcy started landing meatier roles including a lead part on the BBC miniseries "Rebel Heart," a story about a fictional Irish nationalist and his exploits during the Irish War of Independence from 1916 until the end of the Civil War. He played a young Sherlock Holmes in the made-for-TV film "Sherlock: Case of Evil," receiving mostly positive reviews for his convincing portrayal of the world's most famous sleuth. D'Arcy continued to make inroads across the pond by landing more high-profile roles in films like "The Far Side of the World" (2003) opposite Russell Crowe and Paul Bettany. Aside from historical and crime dramas, D'Arcy also carved out a niche in the horror film genre with roles in "Exorcist: The Beginning" and "An American Haunting," starring in the latter as a 19th century professor who becomes involved with a young woman who sees apparitions. D'Arcy went on to appear in a string of British TV miniseries like "Ancient Rome: The Rise and Fall of an Empire" (BBC, 2006), as the 2nd century Roman politician Tiberius Gracchu, and "Mansfield Park" (iTV, 2007), based on Jane Austen's 1814 novel of the same name. In the telefilm, D'Arcy portrayed Thomas Bertram, the eldest son of a wealthy landowner who is only concerned about spending his father's money and living off the family's estate. D'Arcy had a recurring part on the British dramedy series "Secret Diary of a Call Girl" (iTV, 2007-2011), about a high-class London prostitute (Billie Piper) who is trying to juggle the demands of her professional and personal life. D'Arcy further boosted his career after scoring the lead role in Madonna's second directorial effort, the 2010 historical romance drama "W.E.," which follows two love stories between two women separated by more than six decades. D'Arcy portrayed the dashing and suave British monarch King Edward VII, who was forced to abdicate the throne to marry American divorcée Wallis Simpson (Andrea Riseborough) in the 1930s. In 2012, D'Arcy made waves by starring in several critically acclaimed films, including the Wachowski brothers' "Cloud Atlas," a sci-fi drama of six interwoven stories taking place from the 19th century all the way to a post-apocalyptic future, and featuring Tom Hanks and Halle Berry. D'Arcy also delivered a chilling performance in the indie thriller "In Their Skin," as a psychopath who terrorizes a grief-stricken couple (Selma Blair and Joshua Close) as they vacation in their secluded country home. His most buzzed-about role came as real-life actor Anthony Perkins in the 2012 biopic "Hitchcock," about the love story between the iconic filmmaker Alfred Hitchcock (Anthony Hopkins) and his wife Alma Reville (Helen Mirren) during the filming of his horror classic "Psycho" (1960). D'Arcy's portrayal of Perkins in the highly anticipated film was well-received, with many critics describing him as "physically right" for the role, and that he brought to life Perkins' eerie body language, voice and emotional range. D'Arcy moved to television with a key role in British crime drama "Broadchurch" (ITV 2013-17), while appearing in films ranging from the broad comedy "Let's Be Cops" (2014) to Lana and Andy Wachowski's space opera "Jupiter Ascending" (2015) to the crime thriller "Survivor" (2015). His introduction to American TV audiences came with his role as Edwin Jarvis in Marvel's 1940s-set superhero series "Agent Carter" (ABC 2015-16). He next co-starred in Christopher Nolan's gripping war drama "Dunkirk" (2017), restaging one of the most decisive European battles of World War II.
Photos
James D'Arcy
DOT THE I, Gael Garcia Bernal, Natalia Verbeke, James D'Arcy, 2003
Marvel's Agent Carter, James D'Arcy (L), Chad Michael Murray (C), Reggie Austin (R), 'Hollywood Ending', Season 2, Ep. #10, 03/01/2016, ©ABC
Broadchurch, James D'Arcy (L), David Tennant (R), 'Episode 7', Season 2, Ep. #7, 04/15/2015, ©BBC
MASTER AND COMMANDER, Russell Crowe, James D'Arcy, 2003, TM & Copyright (c) 20th Centrury Fox Film Corp. All rights reserved.
EXORCIST: THE BEGINNING, James D'Arcy, Stellan Skarsgard, 2004, (c) Warner Brothers
DOT THE I, Natalia Verbeke, James D'Arcy, 2003
CLOUD ATLAS, from left: James D'Arcy, Ben Wishaw, 2012. ©Warner Bros. Pictures
MASTER AND COMMANDER, Paul Bettany, Robert Pugh, James D'Arcy, Russell Crowe, 2003, TM & Copyright (c) 20th Century Fox Film Corp. All rights reserved.
Marvel's Agent Carter, Bridget Regan (L), James D'Arcy (R), 'Life of the Party', Season 2, Ep. #6, 02/16/2016, ©ABC
Marvel's Agent Carter, Bridget Regan (L), James D'Arcy (R), 'Life of the Party', Season 2, Ep. #6, 02/16/2016, ©ABC
Marvel's Agent Carter, from left: James D'Arcy, Hayley Atwell, Chad Michael Murray, Dominic Cooper, Reggie Austin, 'Hollywood Ending', Season 2, Ep. #10, 03/01/2016, ©ABC
Marvel's Agent Carter, James D'Arcy (L), Dominic Cooper (C), Reggie Austin (R), 'Hollywood Ending', Season 2, Ep. #10, 03/01/2016, ©ABC
Marvel's Agent Carter, Bridget Regan (L), James D'Arcy (R), 'Life of the Party', Season 2, Ep. #6, 02/16/2016, ©ABC
Marvel's Agent Carter, James D'Arcy (L), Dominic Cooper (C), Reggie Austin (R), 'Hollywood Ending', Season 2, Ep. #10, 03/01/2016, ©ABC
Marvel's Agent Carter, James D'Arcy (L), Dominic Cooper (C), Reggie Austin (R), 'Hollywood Ending', Season 2, Ep. #10, 03/01/2016, ©ABC
Marvel's Agent Carter, James D'Arcy (L), Reggie Austin (C), Sean O'Bryan (R), 'The Lady in the Lake', Season 2, Ep. #1, 01/19/2016, ©ABC
Marvel's Agent Carter, Lotte Verbeek (L), James D'Arcy (R), 'A View in the Dark', Season 2, Ep. #2, 01/19/2016, ©ABC
Marvel's Agent Carter, Hayley Atwell (L), James D'Arcy (R), 'A View in the Dark', Season 2, Ep. #2, 01/19/2016, ©ABC
Marvel's Agent Carter, James D'Arcy (L), Lotte Verbeek (R), 'A View in the Dark', Season 2, Ep. #2, 01/19/2016, ©ABC