Like Chickens...Delicious Chickens
EPISODE: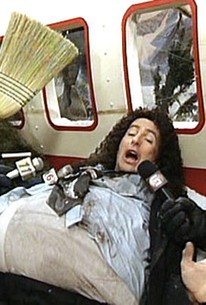 Episode Info
David Cross opens the show sporting a top hat and cane. When Bob Odenkirk asks him why, he tells Bob that he's Jewish, and he's just sharing the wealth in anticipation of receiving his "reparations" from the Swiss government. Then he receives a check for 82 cents and a cute apology greeting card with a kitten spilling milk on the cover. In a sketch that takes place in 1924, adventurer Edmund Premington (Bob) addresses a Gentlemen's Hunt Club about his adventures in Africa. His audience is appalled as he describes the effects of the lion's roar, mentioning that "you feel it first in your scrotum," that "the hairs on the end of your penis stand up," and that "you feel the nipples on your ass become erect." When one guest (David) says, "I must take severe umbrage at your anatomical logic," Premington responds, "I speak honestly, from the bottom of my vagina." The guest speculates, "You don't know what words mean, do you?" In a later skit, newscaster Mark Treems (David) interviews the obese soul survivor of an Andes plane crash, Todd (Bob), who says, "I was forced to eat the flesh of my companions. Their flesh was seasoned with courage." Treems points out, "You've only been out here for 30 days. Did you have to eat all 234 people?" "When I get depressed, I eat," says Todd, "It's my outlet." There's also a parody of Ken Burns' documentary series entitled, "The Civil War: The Re-enactments." "The re-enactment of the battle of Turner Springs would prove to be one of the fake bloodiest in history," the narrator intones, "Thousands would come to pretend to be brave." The re-enactors get into a dispute with a renaissance fair and are forced to move into the parking lot.
Like Chickens...Delicious Chickens Photos
Discussion Forum
Discuss Mr. Show With Bob and David on our TV talk forum!