George Carlin; Janis Ian; Billy Preston
EPISODE: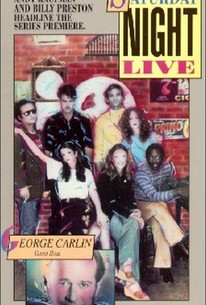 Episode Info
The premiere episode of the long-running and influential sketch comedy series features host George Carlin and musical guests Janis Ian and Billy Preston. Most of the show's soon-to-be familiar elements are already in place, such as the announcement of "Live from New York, it's Saturday Night," the host monologue, Weekend Update news report, and parody commercials. Memorable moments include the first appearance of the Bees, guest star Andy Kaufman's "Mighty Mouse" routine, and the opening absurdist skit in which a professor (Michael O'Donaghue) teaches a non-English speaker (John Belushi) phrases such as, "I would like to feed your fingertips to the wolverines." Although the series would later be known as Saturday Night Live, this episode was introduced as NBC's Saturday Night, a moniker it would keep until the 14th episode, when the "NBC's" was dropped. The series would not actually be called Saturday Night Live until late in the second season.
George Carlin; Janis Ian; Billy Preston Photos
Discussion Forum
Discuss Saturday Night Live on our TV talk forum!