Show Me a Hero: Season 1
(2015)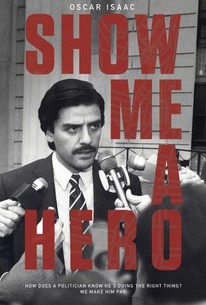 Rate And Review
Show Me a Hero: Season 1 Photos
News & Interviews for Show Me a Hero: Season 1
Audience Reviews for Show Me a Hero: Season 1
One heck of a show that takes you on such a crazy story arc from the lowest of the lows to the highest of the highs, flipping from the start to the end, Show me a hero never stops moving you. Oscar Isaac puts in a performance of the ages and the rest of the strong cast create an engaging and thought provoking drama based on true events.

Strangely but affectingly paced, this semi tragic story is eye opening on the slow progress of race relations in the US. Like the french say plus ça change, plus c'est la même chose.

This was exceptional and a need to see. I went in not actually knowing the story behind this man or the case and it really opened my eyes to the other side of this sort of fight. Engaging, inspiring, stressful, and very tragic, the writing was amazing and I actually watched the entire program in one sitting because I couldn't stop. Would recommend to anyone.

A sad, mournful look at city politics and race relations in 1980s America. Poe Dameron himself plays mayor Nick Wasicsko, elected on a campaign to fight the court-mandated installation of subsidized housing throughout more affluent areas of Yonkers, New York. Pretty much immediately after his victory he's informed that blocking the projects was and always had been a pipe dream and that the choices are now construction or bankruptcy as the courts issue increasing fines until the city complies. Despite the fact that the issue has already been taken to the highest levels and lost there is still strong support for resisting it. Even knowing that it can't be legally resisted and that even trying would bankrupt the city in a matter of months city councilmen are still too frightened of the consequences for their careers if they don't oppose it. One of the best parts of this series is seeing how completely separate the worlds of the government officials and the populace are. The protestors blame everything on the mayor and city council, but these politicians are unable to act since the courts have already given their ruling. When the government is forced to shut down essential services since their funds have been wasted on the futile resistance demanded by the people they are blamed for that as well. The protestors demand action that can only result in defunding the city and then blames their officials for the consequences of this non-compliance as well as for failing to be non-compliant enough. The city councilors supporting them are even worse since they actually know better, but the worst part is that they're right: the officials who took a stance in favor of the housing suffer the consequences next election while those who defunded the city, knowing full well that they could never keep their promises, did well. It's that sort of cynical reality lurking at the heart of governing that this series shows so well. When I first started this series I was expecting Isaac to be an idealistic guy brought down by his moral stance. That's not quite right. Actually, he's a massive opportunist who had no choice but to bow to reality and later chooses to remember it as a principled stance. He's a nice enough guy, but he craves the spotlight and can't seem to remember the difference between love and success. He's obviously a tragic figure, brought low by his hunger for approval and ability to be realistic at a time when people wanted fanatics who promised something impossible. Nope, nothing like today. Nosirree. The story itself is the most boring sounding thing. Most of the film is set in boardrooms and the council chamber and consists of people arguing or expositing to each other. But the characters are well enough drawn that we do care for them and what they're going through. There's a gentle hand at work here too. Almost everyone is sympathetic, except a few bigoted racists and Alfred Molina as a sneering and slimy vice mayor. Even the opposition to the housing projects isn't treated with complete dismissal as Catherine Keener plays a sympathetic housewife involved with the protests. The reasonableness of these characters just serves to make the unreasonableness of the situation stand out. People are issuing death threats against government officials who are just doing their jobs. There are some elements that don't work though. The repeated cuts to some of the people who could benefit from these townhouses is rather awkwardly done. Once they move into the new houses they obviously have a narrative role to play, but that doesn't happen until episode five. Before this they're simply unrelated people who have nothing to do with anything. They feel a little forced and distracting. It doesn't help that the similarity of stories combined with their failure to connect to each other means that we quite easily get them mixed up. Still, they get there in the end and it's useful that we already know them by that point. Speaking of the end, it's not a particularly satisfying conclusion. You know it won't be from the very start, but it still seems to leave a remarkable number of loose ends to be tied up in text scrawls.

Another David Simon gem. He has a way of tying together different storylines and this series expresses his ability to do so almost seamlessly. Some strong performances bring this true life story to a powerful miniseries.

Brilliant political drama. Oscar Isaac gives a perfect performance as Nick Wasicsko.

Another dumb liberal show. I always love these liberals who are for civil rights but don't want to live with the Blacks. Why should Whites give free stuff to Blacks, why should Whites have to lower the quality of their lives because of integration is something no White liberal wants to talk about.

Not as profound as it takes itself. The true story of Nick Wasicsko who successfully ran for Mayor of the New York city of Yonkers in 1987. He took over in the middle of a crisis - the city was being forced by court order to build low-cost housing in middle-class suburbs, a decision the city council strongly rejected. You really have two stories here, and the two aren't connected enough to make an engaging and coherent series. On the one hand you have the plight of people on the poorer end of the economic scale, and the promise of cheap housing in a decent neighbourhood. Even when they get it, their struggles aren't over. This part of the story was reasonably interesting, though disjointed and sometimes very superficial, sentimental and manipulative. On the other hand you have the Nick Wasicsko story. This is just pure city-level politics, and dull. He is painted as the saviour of the poor people, but, just from watching the series, you see he was much more an ambitious political opportunist than a man with a burning desire to help the poor. He even ran on the platform that the city wouldn't build the low-cost houses! Oscar Isaac does put in a great performance as Wasicsko, however. Good supporting cast which includes Winona Ryder, Alfred Molina, James Belushi and Catherine Keener.

"Show Me A Hero" presents undeniable proof that creator-writer-producer David Simon ("The Wire", "Treme", "The Corner") is the foremost expert of depicting realistic events through finely tuned characters and accurate, brass-knuckle and fully formed storytelling devices. His fly-on-the-wall approach to constructing his narratives is in full, potent display here as we get a poignant lens into the rarely traversed snapshot of the housing crisis during the 1980s urban sprawl. Viewers may initially dismiss this series as somewhat boring or uneventful judging by the log-line but thanks to a powerhouse cast featuring career-best turns from leading man and fast rising star Oscar Isaac, the show is credible and unshakable in its commitment to exposing and commenting on a variety of social struggles and stigmas that still permeate to the present day. Molina's council member turned reviled Mayor elect Spallone is so brash and insipid you can't help but cringe whenever he's onscreen. Keener makes a surprising turn as vocal Yonkers resident Mary Dorman who walks a fine line between supporting the wide-eyed ideals of Isaac's Mayor Wasicsko and Molina's Spallone. Her performance is understated and gives the series a good deal of its grounding. The series really finds its stride primarily as a legal drama and considering the national fiscal issues of the last 7-10 years, couldn't be more timely.

An amazing story that I never saw coming.