SEASON: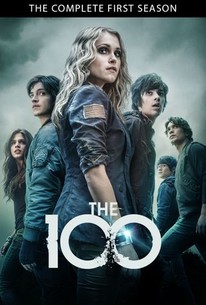 Tv Season Info
Juvenile prisoners from a space-station society are exiled to Earth decades after the planet was destroyed by nuclear war in this sci-fi adventure. In the first series, an antibiotic is sought to treat Jasper (Devon Bostick), and Bellamy (Bob Morley) struggles to maintain order. Later, Raven (Lindsey Morgan) notices a connection between Finn (Thomas McDonell) and Clarke (Eliza Taylor), while Kane (Henry Ian Cusick) wrestles with guilt over a difficult decision. Marie Avgeropoulos, Paige Turco, Isaiah Washington and Eli Goree also star in Series 1.
News & Interviews for The 100: Season 1
Audience Reviews for The 100: Season 1
Some television shows take a while to gain your interest, and while this shows has a great set-up, I will say that it does take a few episodes to really become invested in these characters. For the most part, these are all unknown actors, breaking out in their first big television roles. Is this a property they should be glad they are a part of? Absolutely. Years after the Earth's extinction, the remaining survivors are in space, aboard a ship called The Arc. Needing to see if Earth is inhabitable once again, they send a capsule down, carrying 100 kids (whom are delinquents), to see if the planet has anything in store for humanity. When the kids arrive, they see that Earth is clearly inhabitable, but they are not the only ones there, therefore making for tension filled episodes to come. As stated above, this first season does take a few episodes to really get you hooked, luckily they are very well-made and have interesting characters. "The 100" surprised me in many ways, even though the television formula of "we have to do this or we will die" is present quite often. There are twists and turns throughout this season, and for that, the cliches are all forgivable. The CW has not been known for the best shows in the past, but helming programs such as "Arrow," "The Flash," and "DC's Legends of Tomorrow," they truly have made a statement that they have a brain. Spoiler: To me, the standout character of this show is that of Jasper. The reason I am tagging this with a spoiler is for people who have not watched this season yet, as the character seemingly dies in the first episode, only to become pivotal later on in the show. For primetime television, I was pleasantly surprised by the solid writing this show maintains and the characters it is able to flesh out evenly throughout each episode. Cutting back and forth from the Arc and showing multiple characters in different locations on Earth can be a daunting task for some writers. This is not a season that I would ever praise, because it does have it's share of generic moments and cliched character actions, but I had a blast with this first season. This is a very solid show that I can see myself following through to the end.
½
Despite extra doses of cheese and poor writing here and there, The 100 is a pretty entertaining series that makes the best use possible of sci-fi and post-apocalyptic clichés, thanks to a fast paced approached and plenty of unexpected moments. Don't let the poor marketing campaign fool you, this is not another teen take on sci-fi, it's actually pretty gritty and unforgiving as far as shows go, so give it a chance.
Discussion Forum
Discuss The 100 on our TV talk forum!