The Devil Next Door: Limited Series
(2019)
You might also like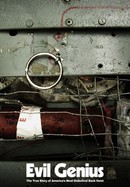 Evil Genius: The True Story of America's Most Diabolical Bank Heist
Visible: Out on Television
Rate And Review
The Devil Next Door: Limited Series Photos
News & Interviews for The Devil Next Door: Limited Series
Audience Reviews for The Devil Next Door: Limited Series
Wow. What an intense docuseries. The court room scenes had me on the edge of my seat and in tears. Absolutely incredible.

Interesting. It seemed like a well-balanced treatment.

There is only one absolute and certain conclusion to this documentary - extremely long lasting and deeply felt need for revenge can possibly lead to self-deception and blind justice. This is in many senses the stories of post WW2, the US and Israel in a combined nutshell, and about them no one can ever be determined.

Netflix has been selecting some interesting material for their documentary machine and this one will likely create a greater emotional response than most.

Fantastic, gripping, docs-series about a modern Nazi war criminal trial that reinvented how these trials are heard. Both justice and injustice are served, but the story itself keeps you getting if it's one that you are unfamiliar with. Absolutely worth watching in today's climate.

Extremely thought provoking and essential story telling of history, The Devil Next Door does a great job of clouding your judgement until the end even if they didn't quite get the timing of the events right.

This documentary covers the complex case of an alleged Nazi prison camp guard, spanning countries, cultures, history, trauma. It does a notable job of presenting the case from all perspectives, treading the very difficult line between the different sides involved and taking into consideration the pain associated with the original events and the re-living of those events as a result of the trials that took place for all involved. It allows the audience autonomy, not pushing you in one direction or the other, and highlighting strengths and weaknesses, problems, cultural connotations on both sides. There is a compassion evident in its storytelling, making it a moving and interesting watch despite its confronting subject matter. It pushes just hard enough to impart the gravitas of the case and its historical significance, interspersing the documentary with footage from the camps, without alienating the audience.

What stands out about this docu is the judgement is left to the audience, whether He was indeed Ivan the terrible or just a regular Ukrainian. The facts are there, but there's no usual in-your-face docu type of propaganda, it makes you think every episode. Given that, that makes it an awesome thriller for a docu, pretty compelling than most hollywood thriller films. It's a must watch for everyone, not only for detective or war history junkies.

Riveting. I wish they would have shown more of the German trial though so we could know why and how he was found guilty.

Its definitely a (hard to see) must watch. The only reason I'm not giving it 5 stars is because it left me with so many more questions.