The Fall: Season 1
(2013)
SEASON: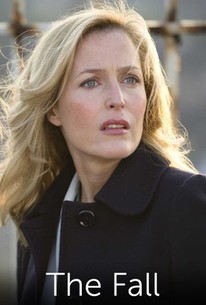 Rate And Review
The Fall: Season 1 Photos
Tv Season Info
"The Fall" is a crime drama that follows an investigation into a series of murders involving young business women in Belfast, Ireland. Season 1 begins with Metro Police Superintendent Detective Stella Gibson (played by Gillian Anderson) heading up a group of local detectives determined to track down a serial killer by the name of Paul Spector (Jamie Dornan) before he has a chance to strike again.
News & Interviews for The Fall: Season 1
Audience Reviews for The Fall: Season 1
Familiar faces Gillian Anderson (The Crown) and Jamie Dornan (Fifty Shades of Grey), A similar vibe to Discovery's Manhunt and Hulu's Looming Tower, but this takes place in Belfast. You have the parallel storytelling of both the killer and the police, all their struggles, and people in their life. A bit dragged on S2 but still interesting.

Good, but not great. Very provocative and dark at times, however I feel that it is just that a lot of the time and episodes seem slow for my taste. But some good acting in from the leadshelp steer the season through.

In a dark, sexy and psychological thriller, The Fall delivers on all fronts for me. Gillian Anderson is sublime in her role and her co-actors help raise the intensity of a well-written script. The first season left me hanging for season two. Without doubt, this is the best series I have seen on Netflix.

Poor, variable acting, bad directing, slow, underwealming. Don't get sucked in and waste your life!

Brilliant. BBC Belfast have done themselves proud. Lot of hype with Jamie these days but I didn't think the guy could act. Now I know he deserved his award as best actor. A very good series with brilliant performances from both Gillian Anderson and Jamie.

Compelling crime drama with great atmosphere and extraordinary performances creates suspense, but this first season very disappointingly ends in mid-air, although the conclusion is clearly at hand.

As the tough but emotionally stunted detective, I like Gillian Anderson in this role even more than the X-Files.

Fantastic! I wish there was more! I love the character Gillian plays.

Very well constructed show. For a procedural-thriller, the writing is very unique, especially coupled with the backdrop of Belfast (and all of the city's complexities), creating a wonderful mixture of beauty and devastation. It is a slow but good burn and being only five episodes means quality is favoured over quantity. Acting is subtle and strong from both Anderson & Dornan. My favourite television series of all time.

Griping series. Terrific acting/editing.