The Kids Are Alright: Season 1
(2018)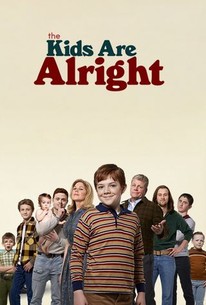 Rate And Review
The Kids Are Alright: Season 1 Photos
Tv Season Info
In a working-class neighborhood outside Los Angeles, Mike and Peggy raise eight boisterous boys who live out their days with little supervision. The household is turned upside down when oldest son Lawrence returns home and announces he's quitting the seminary to go off and "save the world." Times are changing and this family will never be the same. There are 10 people, three bedrooms, one bathroom and everyone in it for themselves.
News & Interviews for The Kids Are Alright: Season 1
Audience Reviews for The Kids Are Alright: Season 1
This show is hysterical. Too bad it was only one season. The Goldbergs have nothing on this show.

Awesome show- huge mistake by ABC to cancel it. I mean it's in the upper 90 percentiles ABC...come on...get with it...sorry if it doesn't meet your networks, "vision " (whatever that might be) ....but people love the show.

Aunque no sea la mejor serie de la historia, es lo suficientemente entretenida y divertida para ser disfrutada.

This show should have never been cancelled! It's hilarious, relatable and manages ten characters without breaking a sweat. I've just finished watching it and I'm devastated there's no season 2. And, in exchange for cancelling his great show, they gave Tim Doyle the opportunity to produce Schooled, a crappy show that goes nowhere. Who's watching that boring and posthumous sitcom instead of The Kids Are Alright, which was fresh and even not afraid to deal with real issues in the seventies? I will watch its only season over and over for many years to come. Thank you, Tim Doyle!

É como se estivesse contando a história da minha infância, apesar de eu ser da geração dos anos 1990. Que nostalgia, que delícia de série, vale cada segundo. O roteiro está sensacional. Parece que cada ator foi feito para o seu respectivo papel.

This serie is so good she needs a 2 season

Great family comedy. Love the entire cast.

One of the best shows on TV and it's cancelled. Network TV show be euthanized!

I love this show. I just learned that the show is cancel so disappointed. Why Everytime there a good show on that you like to watch, can't wait to see it. Find out what going to happen. In this case what are the kids going to get into. The mom and dad in show are amazing, the kids crazy amazing actors. There so many other shows could be cancel too. But NO they had to cancel a good.

OMG how did this show get cancelled! It is BRILLIANT comedy. Those responsible at ABC be killed and put in Peggy Cleary's meatloaf....seriously.