Itchy and Scratchy and Marge
EPISODE: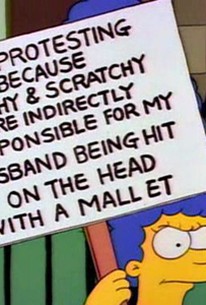 Episode Info
After watching the ultra-violent cartoon series The Itchy & Scratchy Show with Bart (voice of Nancy Cartwright) and Lisa (voice of Yeardley Smith), little Maggie picks up a hammer and attacks Homer (voice of Dan Castellaneta), much as the cartoon mouse pummeled the cat. Marge (voice of Julie Kavner) is convinced the show's violence helped provoke the attack, and writes a letter of concern to the show's producer, Roger Meyers Jr. (voice of Alex Rocco). Meyers responds by calling Marge a screwball; angry, Marge organizes S.N.U.H. (Springfieldians for Nonviolence, Understanding, and Helping) to protest the cartoon's carnage. S.N.U.H.'s activities lead to a nationwide boycott of Itchy & Scratchy, and with profits plummeting, Marge is brought in to help write episodes of the show that would be more acceptable to concerned parents. Under Marge's supervision, Itchy & Scratchy becomes a kinder, gentler show; it's also not very funny. While their parents may approve, the kids lose interest and the show's ratings hit the skids. "Itchy & Scratchy & Marge" first aired on December 20, 1990.
Itchy and Scratchy and Marge Photos
Discussion Forum
Discuss The Simpsons on our TV talk forum!