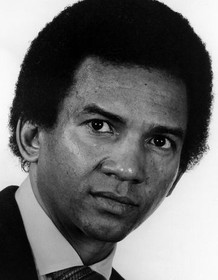 Al Freeman Jr.
Highest Rated: 100% The Detective (1968)
Lowest Rated: 44% Castle Keep (1969)
Birthday: Mar 21, 1934
Birthplace: San Antonio, Texas, USA
Al Freeman Jr., son of actor Al Freeman, began his own acting career in 1958. He worked on several television shows before appearing in the 1964 film "Black Like Me," an adaptation of John Howard Griffin's classic nonfiction account of racial attitudes in the late '50s. Several years later, Freeman played the role of Howard in Francis Ford Coppola's Oscar-nominated film "Finian's Rainbow" starring Fred Astaire. Freeman landed his first major part in 1970, with the title role in "My Sweet Charlie" costarring Patty Duke; he earned his first Emmy nomination for his performance. He received his second Emmy nom in 1979, playing Malcolm X on the acclaimed miniseries "Roots: The Next Generations." Freeman played other important characters in the Civil Rights struggle as well, in the miniseries "King" and in Spike Lee's film "Malcolm X," where he portrayed Malcolm X's spiritual teacher, Elijah Muhammad. In addition to his acting work, Freeman has directed episodes of the long-running soap opera "One Life to Live," and teaches acting at Howard University.
Photos
LOST MAN, THE, Sidney Poitier, Al Freeman Jr., Joanna Shimkus, 1969
THIS REBEL BREED, Richard Rust, Al Freeman Jr., Dyan Cannon, 1960
THIS REBEL BREED, Richard Rust, Al Freeman Jr, 1960
DUTCHMAN, Shirley Knight, Al Freeman Jr., 1967
THIS REBEL BREED, Al Freeman Jr, Richard Rust, 1960
DETECTIVE, THE, Frank Sinatra, Al Freeman, Jr., 1968" TM and Copyright (c) 20th Century Fox Film Corp. All rights reserved.
DUTCHMAN, Shirley Knight (left), Al Freeman Jr. (second from left), 1967
LOST MAN, THE, Sidney Poitier, Joanna Shimkus, Al Freeman, Jr., 1969
DUTCHMAN, Al Freeman Jr., Shirley Knight, 1967
BLACK LIKE ME, James Whitmore, Al Freeman Jr., 1964
MALCOLM X, Al Freeman, Jr., Denzel Washington, 1992
DOWN IN THE DELTA, Alfre Woodard, Al Freeman Jr., 1998, (c)Miramax
DOWN IN THE DELTA, Al Freeman Jr., Wesley Snipes, Alfre Woodard, 1998
MALCOLM X, Denzel Washington, Al Freeman Jr. (in photograph), 1992, (c) Warner Brothers
DOWN IN THE DELTA, Wesley Snipes, 1998, (c)Miramax
ONCE UPON A TIME...WHEN WE WERE COLORED, Charles Earl Taylor Jr., Al Freeman Jr., 1995, (c)BET Pictures
Filmography
Movies
TV
Credit

No Score Yet

82%

Law & Order
Unknown (Guest Star)

1990

2004

91%

89%

Homicide: Life on the Street
Unknown (Guest Star)

1997

No Score Yet

No Score Yet

King
Unknown (Character)

1978

No Score Yet

No Score Yet

Kojak
Donald Mosher (Guest Star)

1976

No Score Yet

No Score Yet

Hot L Baltimore
Charles Bingham (Character)

1975

No Score Yet

No Score Yet

Maude
Unknown (Guest Star)

1974

No Score Yet

No Score Yet

Mod Squad
Jessie Cook (Guest Star)

1972

No Score Yet

No Score Yet

Judd for the Defense
Unknown (Guest Star)

1969

No Score Yet

No Score Yet

Mr. Novak
Unknown (Guest Star)

1965