The Detective
(1968)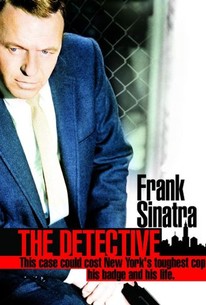 AUDIENCE SCORE
Critic Consensus: No consensus yet.
Movie Info
Frank Sinatra gives a gritty performance in the crime thriller The Detective. When Teddy Leikman, the homosexual son of a politically connected department-store magnate, is murdered, detective Joe Leland (Frank Sinatra) is sent in to investigate. Leland drags in Teddy's psychotic former roommate Felix Tesla (Tony Musante) and forces a confession out of him; for his work on the case Leland gets a promotion, which troubles him. Afterwards, Norma MacIver (Jacqueline Bisset), the widow of a well-heeled accountant, comes to see Leland. Her husband was killed after falling off the grandstand at a racetrack -- but Norma thinks he was pushed. She asks Leland to investigate her husband's death. Reopening the case, Leland discovers that the police are opposed to him scratching around any further, and after an attempt on his life, he uncovers some startling evidence that may connect the two deaths. ~ Paul Brenner, Rovi
Critic Reviews for The Detective
All Critics (4) | Top Critics (1) | Fresh (4) | Rotten (0) | DVD (1)
The modest film questions city hall corruption, shoddy police work, police brutality, cover-ups and gay bashing.
Some of the content involving homosexuality now seems dated, but as a police procedural, it's a compelling watch.
Audience Reviews for The Detective
Frank Sinatra gives a gritty performnce in the crime thriller The Detective. It is pretty clear that Sinatra wanted The Detective to be as good a movie as he could manage, It provides a clear, unsentimental look at a police investigation, and even the language reflects the way cops and the rest of us talk.
Cassandra Maples
Super Reviewer
Seeing how a "A Good Day To Die Hard" is about hit theaters here in the states I've chosen to take a look at the whole "Die Hard" series. Which some of you might be wondering what connection this movie has with "Die Hard". Well John McClane first made his debut on print in the novel "The Detective". That novel had a sequel called "Nothing Lasts Forever" that got adapted into the action classic "Die Hard" which makes "The Detective" the first time John McClane has ever appeared on screen and debatably makes this the first entry of the "Die Hard" series. "The Detective" is about police detective Joe Leland investigation on the murder of a homosexual man. While investigating, he discovers links to official corruption in New York City in this drama that delves into a world of sex and drugs. The story does have some interesting aspects like Joe Leland love life and him exposing corruption in the police department. However, when Joe Leland does actual detective work is when the film becomes dull. Scenes are often drawn out and some character reiterate things we already know. The case itself is nothing too interesting either. There is a brilliant twist towards the end, but aside from that twist the actual crime solving aspect leaves something to be desired. The plot in general is so-so as the change in quality in certain part of the story is clearly visible. Frank Sinatra is technically the first actor to play John McClane since the sequel novel was adapted and Frank Sinatra was even offered to reprise his role in "Die Hard" at the age of 73. He's brings a Oscar worthy performance with his portrayal. He carries the entire film on his shoulder even making some of the unintentional comedic moments be possible to take seriously. The rest of the supporting actors are good too. The editing could have been better. Some scenes could have been left out and certain scenes should have occurred later in the movie instead sooner. "The Detective" is too long for its own good only being saved by strong acting. "The Detective" wasn't a good film debut for John McClane, but to be completely honest it wasn't a bad either. It was slightly above average.
Caesar Mendez
Super Reviewer
A gripping and riveting performance from Frank Sinatra in a role that you would never expect from The Chairman of the Board(in a rare form beyond the glare) and the subject matter so intense it will leave you asking for more. Released in 1968,this was one of the few films that explored police corruption within the force,brutality,and not to mention to taboo subject of homosexuality which shocked audiences with it was release which included scenes depicting of a frank and shocking nature. Based on the gripping novel by Roderick Thorpe with a ripping screenplay by Abby Mann and Directed by Gordon Douglas. This was the first Sinatra film to received an "R" rating for its use of strong language and explicit subject matter. Jack Klugman, Lee Remick, Robert Duvall, Tony Mustante, and William Windom star.
Mister Caple
Super Reviewer
The Detective Quotes
There are no approved quotes yet for this movie.