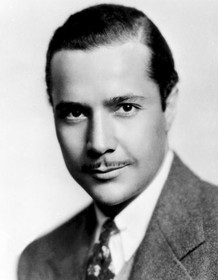 Don Alvarado
Highest Rated: 64% Morning Glory (1933)
Lowest Rated: 60% The Devil Is a Woman (1935)
Birthday: Nov 4, 1904
Birthplace: Albuquerque, New Mexico, USA
Handsome "latin lover" type of the late silents and early talkies, who later went into western roles. Appeared in two of D.W. Griffith's later films.
Photos
NOBODY'S BABY, l-r: Rosina Lawrence, Don Alvarado, 1937
THE BATTLE OF THE SEXES, from left: Jean Hersholt, Phyllis Haver, Don Alvarado, Sally O'Neil, 1928
THE BATTLE OF THE SEXES, Don Alvarado, Phyllis Haver, 1928
DRUMS OF LOVE, Don Alvarado, Mary Philbin, 1928
THE LOVES OF CARMEN, Don Alvarado, Dolores Del Rio, 1927, TM & Copyright (c) 20th Century Fox Film Corp. All rights reserved.