The Battle of the Sexes
(1928)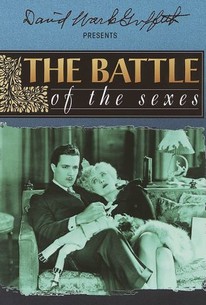 AUDIENCE SCORE
Critic Consensus: No consensus yet.
The Battle of the Sexes Photos
Movie Info
A remake of a 1914 D.W. Griffith potboiler, The Battle of the Sexes is a highly entertaining, if cautionary, tale of a middle-aged family man, J.C. Judson (Jean Hersholt), who despite his devotion to wife and offspring falls for what is obviously a gold digger, Marie Skinner (Phyllis Haver). When Mrs. Judson (Belle Bennett) and her grown children, Ruth (Sally O'Neil) and Billy (William Bakewell), confront him with the awful truth, Judson refuses to give up his inamorata and instead moves out of the home. A desperate Ruth, gun in hand, seeks a showdown with Marie, but their confrontation is interrupted by the latter's handsome but feckless boyfriend, Babe Winsor (Don Alvarado), who in drunkenness begins to court the pretty Ruth. Judson walks in on this tender scene and immediately employs a double standard, condemning his daughter for bringing shame upon his house. A violent argument between a jealous Marie and Babe forces him to face the truth, however, and a chagrined Judson returns to home and hearth, begging for forgiveness. Beautifully restored and released on DVD in 2000, The Battle of the Sexes benefits from a wonderful new score performed by the Mont Alto Motion Picture Orchestra.
Critic Reviews for The Battle of the Sexes
All Critics (2) | Fresh (1) | Rotten (1)
The fact is Griffith delivered a good, solid, creative movie - it just wasn't the movie the studio was marketing. Seen today it's easier to appreciate than it was in 1928.
If Griffith is a great director, you wouldn't know it from this mawkish pic.
Audience Reviews for The Battle of the Sexes
This movie was better than I thought it would be, it's funny and surprising, with a very realistic and dramatically intense story. It's kind of predictable, but I really enjoyed it.
The Battle of the Sexes Quotes
There are no approved quotes yet for this movie.