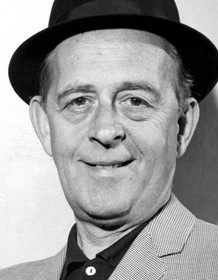 Eddie Foy Jr.
Highest Rated: 90% Yankee Doodle Dandy (1942)
Lowest Rated: 56% Queen of the Nightclubs (1929)
Birthday: Feb 4, 1905
Birthplace: New Rochelle, New York, USA
Eddie Foy Jr. found incredible success as an accomplished actor, appearing in a variety of films throughout his Hollywood career. Foy's earliest roles were in film, including the comedic adaptation "Leathernecking" (1930) with Irene Dunne, "Myrt and Marge" (1933) with Myrtle Vail and "Frontier Marshal" (1939) with Randolph Scott. He also appeared in the drama "Women in the Wind" (1939) with Kay Francis, "The Cowboy Quarterback" (1939) and the adventure "Secret Service of the Air" (1939) with Ronald Reagan. He continued to act in productions like the Judy Canova comedy "Joan of Ozark" (1942), "Moonlight Masquerade" (1942) and the action flick "Powder Town" (1942) with Victor McLaglen. He also appeared in the James Cagney biopic "Yankee Doodle Dandy" (1942). Film continued to be his passion as he played roles in "Bells Are Ringing" (1960), the James Darren comedy "Gidget Goes Hawaiian" (1961) and the Buster Keaton comedy "Ten Girls Ago" (1962). He also appeared in "30 Is a Dangerous Age, Cynthia" (1968). Foy was most recently credited in "Friday Night Surprise!" (NBC, 1987-88). He also worked in television during these years, including a part on "Fair Exchange" (CBS, 1962-64). Foy passed away in July 1983 at the age of 78.
Skip to Quotes