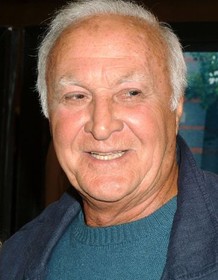 Robert Loggia
Highest Rated: 98% Big (1988)
Lowest Rated: Not Available
Birthday: Jan 3, 1930
Birthplace: New York, New York, USA
With his gravelly voice and tough-as-nails exterior, it would have been easy for veteran actor Robert Loggia to be relegated exclusively to playing the heavy. And he might have, were it not for his dogged determination, innate onscreen gravitas, and a few lucky breaks. After studying under famed acting instructor Stella Adler in New York, he scored roles off- and on Broadway before making his film debut in the Paul Newman vehicle "Somebody Up There Likes Me" (1956), as well as beginning a steady career on television. However, after the failure of his first starring series, "T.H.E. Cat" (NBC, 1966-67), Loggia almost called it quits. He eventually resumed acting, but found little satisfaction playing mostly thugs on series like "The Rockford Files" (NBC, 1974-1980). Just as he was about to forgo acting in favor of becoming a director, Loggia landed a role that would change his life. In "An Officer and a Gentleman" (1982), Loggia showed both audiences and filmmakers a whole new side of himself as Richard Gere's abusive father, suddenly making the transition from minor player to respected character actor. In 1983, he appeared with Al Pacino in the blood-soaked "Scarface," and was nominated for an Oscar for his portrayal of a rumpled investigator in "Jagged Edge" (1985). Loggia scored roles in blockbusters like "Independence Day" (1996), while at the same time amazing audiences with performances like his recurring role of Tony Soprano's recently sprung enemy on "The Sopranos" (HBO, 1998-2007). While not one to open a movie on the strength of his name, Robert Loggia instead remained one of the prolific, recognizable faces for generations in both film and on television. His death from complications of Alzheimer's Disease at the age of 85 on December 4, 2015 occasioned fond remembrances from fans and fellow actors alike.
Photos
SOMEBODY UP THERE LIKES ME, Robert Loggia, Paul Newman, 1956
COP HATER, from left: Ellen Parker, Robert Loggia, 1958
PSYCHO II, Robert Loggia, 1983, (c)Universal
HOT PURSUIT, Robert Loggia, 1987, (c)Paramount
WIDE AWAKE, Robert Loggia, 1998, (c) Miramax
WIDE AWAKE, Robert Loggia, Joseph Cross, 1998, (c) Miramax
OPPORTUNITY KNOCKS, Robert Loggia, 1990, (c)Universal
GABY: A TRUE STORY, (clockwise from top): Robert Loggia, Liv Ullmann, Rachel Chagall, 1987, (c)TriStar Pictures
RELENTLESS, Robert Loggia, 1989. ©New Line Cinema
RELENTLESS, Leo Rossi, Robert Loggia, 1989, (c)New Line Cinema
INNOCENT BLOOD, Robert Loggia, 1992
BIG, Robert Loggia, 1988, TM and Copyright (c)20th Century Fox Film Corp. All rights reserved.
SOMEBODY UP THERE LIKES ME, Paul Newman (left), Robert Loggia (right), 1956
JAGGED EDGE, Robert Loggia, 1985, (c)Columbia Pictures
CURSE OF THE PINK PANTHER, Ted Wass (second from left), Leslie Ash (center), Robert Loggia (3rd from right), 1983, (c)MGM
THAT'S LIFE!, Robert Loggia, Jack Lemmon, 1986, (c)Columbia Pictures
THE BELIEVERS, Robert Loggia, 1987, (c) Orion
TRIUMPH OF THE SPIRIT, Willem Dafoe, Robert Loggia, 1989, ©Triumph Releasing Corporation
S.O.B., Loretta Swit, Robert Loggia, Craig Stevens, Larry Hagman, William Holden, Richard Mulligan, Julie Andrews, Robert Vaughn, Robert Preston, Shelley Winters, Stuart Margolin, Marisa Berenson, Robert Webber, 1981
THE BELIEVERS, from left: Martin Sheen, Robert Loggia, 1987. ©Orion Pictures