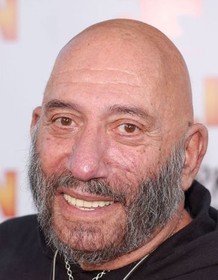 Sid Haig
Highest Rated: 100% The Big Bird Cage (1972)
Lowest Rated: 11% Creature (2011)
Birthday: Jul 14, 1939
Birthplace: Fresno, California, USA
A memorable and often menacing figure in films and on television for more than a half-century, character actor Sid Haig rose to fame in the 1970s as hotwired villains in drive-in fare like "Coffy" (1973) before enjoying a second round of fame as a horror antihero in "The Devil's Rejects" (2003) and other low-budget features. Born Sidney Eddie Mosesian on July 14, 1938 in Fresno, California, he began performing at the age of seven years: dance lessons intended to correct a coordination problem instead revealed a remarkable aptitude for movement, which led to paying jobs in children's theater and in vaudeville revival. Haig's gift for rhythm also translated into a second career as a drummer on pop, swing and jazz recording sessions while still in high school. During this period, Haig also began acting in school productions, and at the advice of actor Dennis Morgan - a friend of his drama teacher - he trained at the famed Pasadena Playhouse before heading to Hollywood. There, he landed his first role in a UCLA student project directed by aspiring filmmaker Jack Hill, who would cast Haig in many of his subsequent features, including "Spider Baby" (1967), a macabre horror-comedy with Lon Chaney, Jr. as the caretaker of a deranged family that included a feeble-minded but still dangerous Haig. The film went largely unseen, but by the time of its release, Haig was already working steadily in features and on television, where his 6'4" frame and baleful visage made him ideal for antagonists of all stripes in series like "Batman"(ABC, 1965-1968), "The Man from U.N.C.L.E" (NBC, 1964-1968) and "Star Trek" (NBC, 1966-1969). He also enjoyed minor roles in features like John Boorman's "Point Blank" (1967), George Lucas's "THX 1138" (1971), and the James Bond thriller "Diamonds are Forever" (1971), but his film career took off a few years later when Hill began directing for Roger Corman's New World Pictures. Hill made exciting, often violent genre films - women in prison pictures like "The Big Doll House" (1971), black action titles like "Coffy" (1973), both starring Pam Grier - with thematic and story elements that betrayed their base premises, and frequently tapped Haig to star as either diabolical thugs or hard-living rogues. The box office success of these and other Corman productions led to supporting roles in studio efforts for Haig, including Robert Aldrich's grim "Emperor of the North" (1973) and Richard Fleischer's Mafia drama "The Don is Dead" (1973), as well turns as hoods and hustlers on countless episodes of television series like "The Six Million Dollar Man" (ABC, 1973-1978) and "The Rockford Files" (NBC, 1974-1980). In 1978, he made his debut as a series regular on the CBS children's science fiction series "Jason of Star Command" (1978-1981), playing a megalomanical space pirate, and while film and television work remained steadily through the 1980s, Haig had grown tired of playing heavies and henchmen. He retired from acting in 1992 and worked as a licensed hypnotherapist until 1997, when diehard fan Quentin Tarantino lured him back to screen work with a minor role as a judge in "Jackie Brown" (1997), starring his old screen partner, Pam Grier. In 2003, rocker Rob Zombie tapped Haig to play a psychotic killer masquerading as a clown in "House of 1000 Corpses." Though only a modest hit, Haig's performance, which was equally amusing and terrifying, won him a legion of new fans among the horror faithful, and for the next decade, Haig was again a menacing and occasionally heroic presence in countless horror films. The majority of these were low-budget efforts, with Haig's presence among their sole notable elements, though he reprised his killer clown, Captain Spaulding, in Zombie's grindhouse tribute "The Devil's Rejects" (2003) and appeared briefly in the director's revamp of "Halloween" (2007). Between these efforts were minor roles in Tarantino's "Kill Bill: Vol. 2" (2003) and S. Craig Zahler's grueling western "Bone Tomahawk" (2015), but horror films, and convention appearances for fans kept Haig exceptionally busy until 2019. Failing health had prevented Haig from making more than a brief return as Spaulding in Zombie's "3 from Hell" (2019), and after completing his scenes, he suffered a fall in his Los Angeles home that required hospitalization. While there, he suffered a lung infection that would eventually claim the 80-year-old Haig's life on September 21, 2019.
Photos
COFFY, Sid Haig, 1973
IT'S A BIKINI WORLD, front from left: Sid Haig, Deborah Walley, 1967, 5025432, Photo by: (5025432)
IT'S A BIKINI WORLD, Jack Bernardi (left), Sid Haig (center), 1967, 5025433, Photo by: (5025433)
IT'S A BIKINI WORLD, facing front from left: Sid Haig, Deborah Walley, 1967, 5025437, Photo by: (5025437)
THE BIG DOLL HOUSE, Roberta Collins, Jerry Franks, Sid Haig, 1971
THX 1138, Sid Haig, (top), 1971
THX 1138, from left, Maggie McOmie, Sid Haig, 1971
SPIDER BABY, Sid Haig, Beverly Washburn, 1964
BUSTING, Sid Haig, Allen Garfield, Robert Blake, Elliott Gould, 1974
COFFY, Robert DoQui, Sid Haig, 1973
SPIDER BABY, Sid Haig, 1964
CHU CHU AND THE PHILLY FLASH, Sid Haig (center), Ruth Buzzi, Jack Warden, 1981, TM & Copyright (c) 20th Century Fox Film Corp.
CYNTHIA, FROM LEFT: SID HAIG, ANDREW PAGANA, 2018. © INDICAN PICTURES
CREATURE, Sid Haig, 2011. ph: Teddy Smith/©Bubble Distribution
THE DEVIL'S REJECTS, Sheri Moon, Sid Haig, Bill Moseley, 2005, (c) Lions Gate
HOUSE OF 1000 CORPSES, Sid Haig, 2003.©Lions Gate
HOUSE OF 1000 CORPSES, Sid Haig, 2003, (c) Lions Gate
THE DEVIL'S REJECTS, Sid Haig, 2005, (c) Lions Gate
BUSTING, Sid Haig, 1974
HOUSE OF 1000 CORPSES, Sid Haig, 2003.©Lions Gate