A Farewell To Arms
(1957)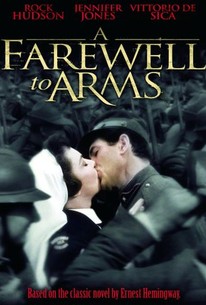 A Farewell To Arms Photos
Movie Info
Farewell to Arms is the second film version of Ernest Hemingway's World War One novel--and also the last film produced by David O. Selznick (Gone with the Wind). Rock Hudson plays an American serving in the Italian Army during the "War to End All Wars". Jennifer Jones is his lover, a Red cross nurse. They have a torrid affair, which results in Jones' pregnancy. As the months pass, Hudson and Jones lose contact with one another, and Jones believes that Hudson has forgotten her. But a battle-weary Hudson finally makes it to Switzerland, where Jones is hospitalized. The baby is stillborn, and Jones dies shortly afterward, murmuring that her death is "a dirty trick." Filmed on a simpler scale in 1932 (with Gary Cooper and Helen Hayes starring), A Farewell to Arms was blown all out of proportion to "epic" stature for the 1957 remake--so much so that its original director, John Huston, quit the film in disgust. Still, the basic love story is touchingly enacted by Rock Hudson and Jennifer Jones. ~ Hal Erickson, Rovi
Critic Reviews for A Farewell To Arms
Audience Reviews for A Farewell To Arms
½
First, David O. Selznick was "Gone with the Wind", and now he's finally getting around to bidding "A Farewell to Arms". Seriously though, Selznick is back to produce yet another high-scale and romantic war melodrama, although, compared to "Gone with the Wind", this film is about as long as, well, the adaptation of this Ernest Hemingway classic that they made back in 1932. Now, with that said, you can leave it to Selznick to take something that was once made into 85-minute-long pseudo-filler, and turn it into a two-and-a-half-hour-long epic... I guess. I don't know if epic filmmaking was that big of trait for the producer, but you know that they're trying to get you to think of "Gone with the Wind" with this film. That was probably not great for Selznick's marriage to Jennifer Jones, because she shouldn't be in this film with Clark Gable on the brain, seeing as how even Rock Hudson, alone, is more than a few stones above Selznick. Man, with "Giant", and then this film, Hudson was really getting into sprawling romantic epics towards the end of the '50s, probably because he wanted to spend as much time as he could showing himself with a woman. Man, this film is cheesy that it might have added to the rumors regarding Hudson's sexuality, but hey, at least it's entertaining, even though it isn't exactly unique. I was expecting this to be something of a formulaic Hollywood war drama, and sure enough, throughout this sprawling affair, nearly nothing new occurs, leaving predictability to set in, even if you're not already familiar with Ernest Hemingway's classic material. Really, I can't see this film doing a great amount of justice to Hemingway's story, because if nothing else defuses the momentum of this melodrama, it's all of the cheesiness, reflected partly in some lame comic relief, and largely in dialogue that ranges from flat to admittedly unbelievably bad, and whose missteps are recurrent throughout the film, aggravating you and trying your patience, while superficializing the depths of this conceptually heavier subject matter. The glaring missteps in dialogue within Ben Hecht's script are but heights in its gross Hollywood misguidance, because among the tropes hit by this film time and again is Hollywood superficialities and dated dramatic sensibilities, which take the guts out of this promising drama, and make the histrionics harder to embrace in the context of this narrative. I certainly prefer the war segments to the overwrought romance segments, but it doesn't seem as though this film can ever escape overt romanticism that tests believability through manufactures conflicts and overblown melodramatics which cause momentum to fall, though not without help from overblown structuring. This film manages to keep itself pretty busy throughout its course of two-and-a-half hours, so it's never bland, but it might end up finding too much to do, until it loses a sense of progression and conflict at times, or simply wears the audience down when it goes backed by such superficial handlings of material. There's so much value to the concept of this film, and the execution does a lot of things very well, but whenever it gets the chance, this melodrama tries your patience, with conventions, cheese, superficialities and, of course, excess, until the final product falls short of, not simply what it could have been, but rewarding. Still, with plenty of patience, many are sure to be reasonably engaged, and thoroughly entertained, thanks to the film's always working to keep things lively. Now, when I claim that this 1950s Hollywood epic is wholly unoriginal, you know that nothing is new within Mario Nascimbene's score, yet the film's soundtrack is recurrent and consistently delivers on some sort of perk, highlighted by a sweep that goes matched by Oswald Morris' colorfully light, yet grandly scoped cinematography. The cinematography at least gives you a fine view of the art direction by Mario Garbuglia (Do you think the art departments could use some Italians?) which is, of course nothing unique, but rich and dynamic enough to sell the setting and scale of this war melodrama, just as the performers help in selling what material they can. Well, honestly, I prefer the war segments to the romance segments partly because the beautiful Jennifer Jones doesn't simply not help in selling the hokey material, but makes it all the worse with her cloyingly flamboyant and unconvincing performance, - punctuated by surprisingly solid power in her final scenes - and because just about all of the supporting players during the war segments are surprisingly effective, with some stealing the show from Rock Hudson, who remains endearing in his charisma and sound dramatic touches, even if he can't quite hold up chemistry with the generally flat Jones. The leads' unequal abilities make it even more difficult to buy into the romantic dramatics which should play a large factor in the engagement value, thus, what effectiveness there is hinges on the directorial performance of Charles Vidor, whose sentimentality exacerbates the sting of the melodramatics, but reflects color within Vidor's efforts that frequently entertains, until realization is found, resulting in moments of resonance, especially during a powerful final act which, honestly, is more than the film deserves on the whole. Vidor's efforts are far from outstanding, but they're certainly superior to Ben Hecht's efforts as screenwriter, so much so that without all of the messy writing, this film could have perhaps rewarded, as its engagement value already has a solid head-start, thanks to a worthy story concept. Though excessive in a number of ways, this film at least attempts to capture the layers and scope of Ernest Hemingway's classic novel, and it's hard to hold a melodrama like that too far back, for Hemingway wrote a gripping modernist narrative that, loosely based on personal experiences, married real struggles with rich romanticism, and established sound potential for an epic film. This adaptation is ambitious, but ultimately relatively flat, but only relatively, for although there are many a misguidance, the intrigue of the subject matter itself, brought to life by many a highlight in storytelling, at least bring the final product to the brink of rewarding. When it is finally time to bid farewell, consistent conventions, cloying cheese, and glaring Hollywood superficialities dilute the effectiveness of the melodrama, while momentum is shaken so greatly by the excessive structuring that the final product wears itself down to an underwhelming point, but just barely, for grand scoring, cinematography and art direction, generally effective performances, and colorful and sometimes resonant direction bring enough life to Ernest Hemingway's excellent subject matter to bring Charles Vidor's "A Farewell to Arms" to the border of rewarding, despite the flaws which still hold it a ways back. 2.75/5 - Decent
Cameron Johnson
Super Reviewer
½
Just okay version of Hemingway story suffers from overlength although it has fine production values. Rock is pretty good in the lead. Jennifer Jones less so as Catherine, affected and rather bland.
A Farewell To Arms Quotes
There are no approved quotes yet for this movie.
Discussion Forum
Discuss A Farewell To Arms on our Movie forum!