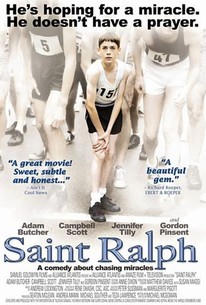 Saint Ralph
2004, Comedy/Drama, 1h 38m
68 Reviews
5,000+ Ratings
What to know
Critics Consensus
Saint Ralph is an amiable tear-jerker that walks a fine line between being inspirational and being hokum. Read critic reviews
Where to watch Saint Ralph
Free
Rent/buy
Rent/buy
Rent Saint Ralph on Apple TV, Amazon Prime Video, or buy it on Apple TV, Amazon Prime Video.
Rate And Review
Saint Ralph Photos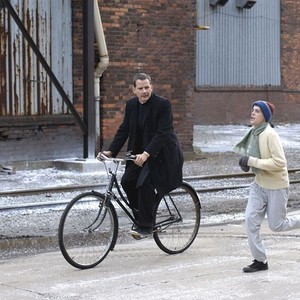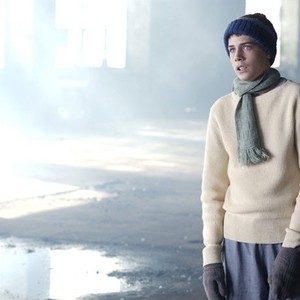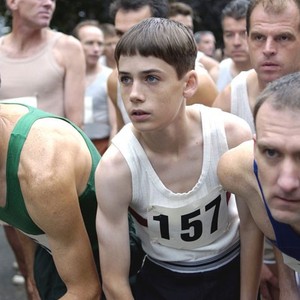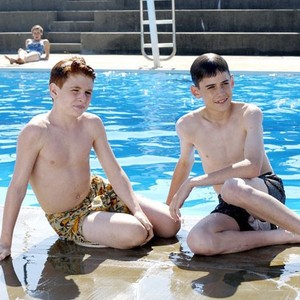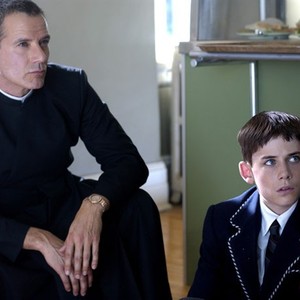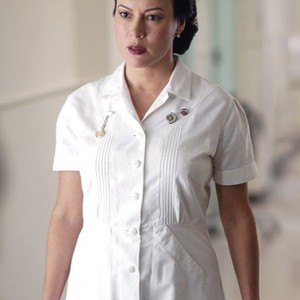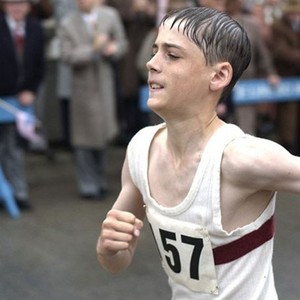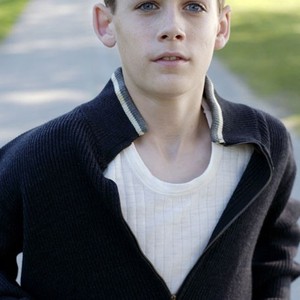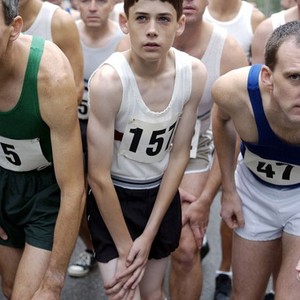 Saint Ralph (2004)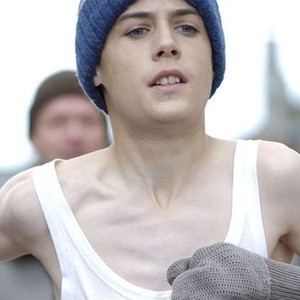 Saint Ralph (2004)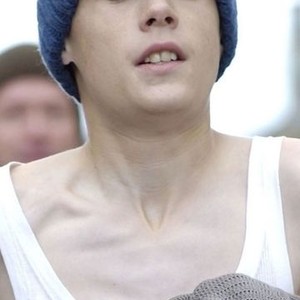 Saint Ralph (2004)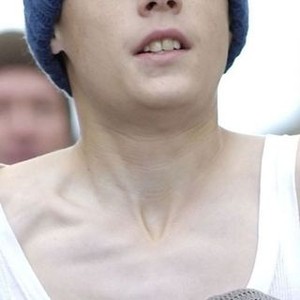 Saint Ralph (2004)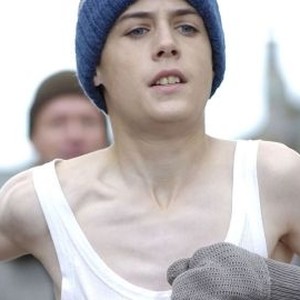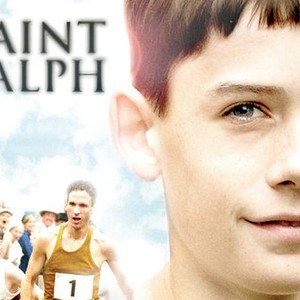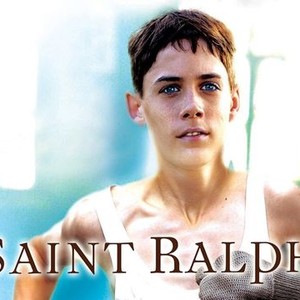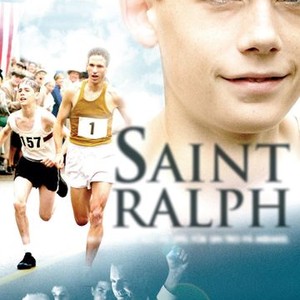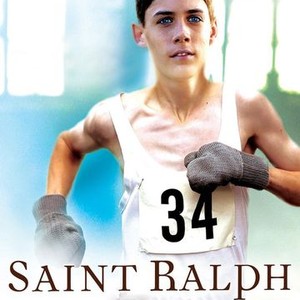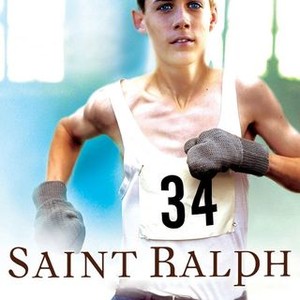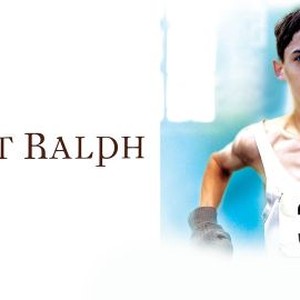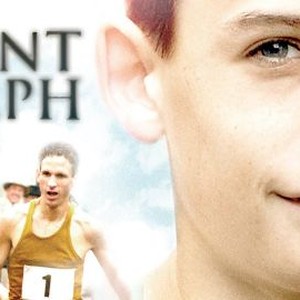 Movie Info
The year 1954 finds teen outcast Ralph Walker (Adam Butcher) getting in trouble at the Catholic school he attends in Ontario, Canada. When the headmaster (Gordon Pinsent) catches Ralph smoking, he puts the boy on the school's cross-county team to force him to put his time to better use. When Ralph discovers that his hospitalized mother has slipped into a coma, he decides to run in the Boston Marathon, hoping that, if he wins, God will grant him a miracle and make his mother well again.
News & Interviews for Saint Ralph
Audience Reviews for Saint Ralph
Quirky and quiet little film about a Catholic schoolboy who wants to run the Boston Marathon. It succeeds finally because of the warmth of the cast portraying loyalty and persistence in the face of adversity.

Full of wit, candor, and love abounding. One of my absolute favorites.

Although the hospital scenes were inaccurate, I still couldn't help but love this movie. A charming story about a 14 year old Canadian boy who goes to Catholic school while his mother is in a coma. In order to bring about the miracle she needs, he sets out to win the Boston Marathon.

One of the best movies I've seen all year. The movie is fresh, original, funny, and extremely moving. The characters are well developed, the plot intriguing and inviting, and the dialogue simply priceless. The movie positions itself in that delicious but awkward transition between boyhood innocence and adulthood stoicism or cynicism. Ralph is a child, becoming a man, learning the limits of his own body, his mother's body, and all the while confronting adults inability to imagine or dream. He dream's on and takes the audience on a sweet journey that will rekindle your fire. It truly is an inspirational film. I'm not a catholic, certainly not a saint, and can hardly even call myself a jogger, but I found this movie wonderfully inspiring, witty and enjoyable from start to finish. I was thoroughly impressed with Adam Butcher's performance; he portrayed young Ralph's emotions (and the struggles of youth) so genuinely that he brought tears to my eyes during several scenes. A truly uplifting message in the film, brought home with brilliance. The producers were able to turn back the clock on Hamilton in a convincing way, with the appropriate prudishness of dress and behaviour for the private catholic school community in the mid-'50s. Saint Ralph is a throwback to the wonderful films of the 1940's and 50's in which hope springs eternal, no matter the roadblocks that one may encounter along the way. However, it's never corny. It is a film with a lot of wry, gentle humor, especially for those who may have gone to parochial schools when they were staffed primarily by nuns, brothers, and priests. This movie is not perfect, but it certainly ranks as one of the most satisfying films I've seen in a very long time. The cast is uniformly good, the writing is spot on, and there is even a period of real suspense. Ralph (Adam Butcher) is a brazen but cute 14-year-old student fighting the system but inwardly grieving his Dad, who died in the recent war (WW2)and his extremely ill mother who lies in a coma in the hospital. This is never sentimentalized, his exchanges with his mother before she slips into her coma are beautifully written and believable. How he cobbles together his faith and goes out to seek a miracle is the crux of the story but there are many lovely sidebars, his almost-girlfriend who wants to be a nun, his best friend who forges notes for him, a fun loving nurse, played by the never disappointing Jennifer Tilly, squeaky voice in place and some disbelieving factory workers who mock his attempts at athleticism. Ralph is a fully developed character, his sinful side clashing consistently with his puritanical, self-punishing side, his innate flirtatiousness offset by his being picked upon by the older boys in his school. Adam nails the role to such a degree that one forgets he is acting. A younger priest (Campbell Scott plays this beautifully) with a secret past agrees to help the young boy and Gordon Pinsent plays the part of the older rigid priest with conviction even though he has some thin dialogue to sink his teeth into ? the movie's only weakness. The sexuality content is handled well and honestly with none of that gruesome teenage guffawing that litters other movies of this ilk. Because of this content it would not be suitable for children which is a shame, but it is not gratuitous and is an intrinsic part of the Catholic sin quotient of the era. Ralph (Adam Butcher) is a naughty but naive 14-year-old boy, ready to take almost everything literally, now faced with the paradox of faith. His widowed mother is apparently dying in the hospital, and falls into a coma early in the story. A doctor says it will take a miracle to wake her. Ralph is an interesting character, his even blend of pure and impure motives providing both the humor that make the film entertaining, and the realism that make it believable. His self-abuse in every sense defines the term, from the usual meaning to literally sanding his knees to pray in a pan of alcohol, the latter recommended by his girlfriend, who aspires to be a nun. When his Catholic school's cross country coach says it would be a miracle if anyone on his team won the Boston Marathon, Ralph's literal mind seizes a fallacious opportunity. If he wins the Boston Marathon, it would be a miracle, and that's what his mother needs to survive. Most of the movie is about his training to run that race, both physical and spiritual, with the help of a priest (Campbell Scott), a nurse (Jennifer Tilly), and his girlfriend (Tamara Hope). The blend of comedy and pathos is effective, the film kept entertaining by the comedy in the foreground, while the fact that Ralph's mother is dying keeps us interested in the outcome and rooting for the boy. Even if you don't like running or sports in general, the life at stake, or at least the boy's faith at stake, makes this race important. There may be a bit too much sexual comedy for most parents to let small children see. For instance, after Ralph's caught in a venal sin in the swimming pool, that involved spying on the girl's locker room, he tells his mother "It was really an accident. The manufacture of the pool was faulty." The incident becomes a running joke, demonstrating Ralph's character trait of not caring what other people think. He later says they didn't really need to drain the pool (I'm not going to explain that, you've got to see it, but it was funny). Set in Hamilton in 1954, Saint Ralph is the unlikely story of Ralph Walker, a ninth grader who outran everyone's expectations except his own in his bold quest to win the Boston Marathon. Ralph is a fatherless 14-year-old with a seriously ill mother, who knows he's a time bomb waiting to explode into greatness, except that he has no idea where that greatness will manifest itself. An unfortunate incident of self-abuse in the community pool inadvertently sets him on this road when, as penance, Ralph is conscripted to the cross-country team. Desperate to believe a miracle will bring his mother out of a coma, Ralph becomes a convert to the church of running, and determines to win the Boston Marathon. This is the story of Ralph Walker, a 14-year-old who in 1954 outran everyone's expectations in his bold quest to win the Boston Marathon. His seriously ill mother knows he is waiting to explode into g...( read more )reatness, except that he has no idea where that greatness will manifest itself. Then, an unfortunate incident of self-abuse in the community pool inadvertently points him in the right direction. As penance for his actions, Ralph is conscripted to the cross-country team. Desperate to believe a miracle will bring his mother out of a coma, Ralph becomes a convert to the church of running and sets his sights on winning the Boston Marathon.
See Details