Chaos
(2005)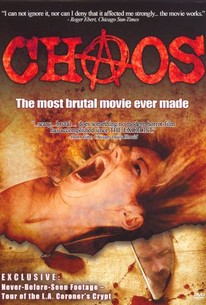 Movie Info
Two young women, Angelica (Chantal Degroat), who has returned home for the summer from UCLA, and Emily (Maya Barovich) go off to a rave in the woods, where Angelica hopes to score some ecstasy. There, they meet Swan (Sage Stallone, horror aficionado and son of actor Sylvester Stallone), who, unbeknownst to them, was sent to find two naïve young women and bring them back to his father, Chaos (Kevin Gage), and his depraved cohorts, Frankie (Stephen Wozniak) and Daisy (Kelly K.C. Quann). As the helpless girls are brought into the woods to be tortured and murdered, Emily's loving parents grow worried that their normally levelheaded daughter has missed her curfew and is not answering her cell phone. After a frustrating encounter with the local police, they decide to go and look for the girls themselves. Chaos, written and directed by David DeFalco, is clearly modeled after Wes Craven's seminal 1972 low-budget horror film, Last House on the Left, which was inspired by Ingmar Bergman's The Virgin Spring.
News & Interviews for Chaos
Audience Reviews for Chaos
½
Brutal in its depiction of violence, this movie is no better than the one that inspired it, Last House on the Left. This is stomach turning violence for violence's sake, though the producers claim it is an educational movie about what can happen to your daughters if left unsupervised. The acting is poor, and the production values are too. There is nothing of redeeming quality here, except Maya Barovich isn't terrible to look at.
Don Schick
There was actually some good acting and some very realistically disturbing scenes here. The end was intense. But trying to act like it's an original piece of work...please.
Jeff B
Chaos is a difficult film to rate properly. Yes, it is a rip-off of Last House on the Left, which is, of course, itself a reimagining of Ingmar Bergman's The Virgin Spring. And there are numerous ripoffs of Last House that have suffered the harsh backlash that Chaos has prompted. For example, Aldo Lado's Night Train Murders is a film almost on a par with Craven's originality. Chaos deviates from Craven's (or Bergman's) plot archetype only in the final moments of the film. I must give Chaos some credit because it does manage to be genuinely disturbing, and despite its reveling in the violence instead of condemning it, the film still offers a message. Indeed, the message is already presaged in the title: Chaos reigns--order does not prevail over the forces of chaos (or evil as they might also be termed). Chaos features at least one (if not two) scene that will shock even the most ardent fans of horror and exploitation fare. Indeed, there is nothing ethically redeemable about the film, for it is about the absolute failure of ethics. The ethical condemnation of other disturbing rape-revenge films like Last House, Thriller, I Spit on Your Grave, Irreversible, etc. remains entirely absent from Chaos. But to judge it ethically is, in part, to miss the point. Yes, as Ebert makes clear in his reviews of the film, it is an ugly, disgusting, and disquieting film that will leave you not just feeling disturbed like a horror film but also saddened at the failure of human compassion and goodness. But this is precisely its point: humankind is fundamentally wicked and damned. Perhaps the element that detracts most strongly from the film is its statement at the film's opening that it is a cautionary tale. To read the film in such a way makes it absurd. As Ebert points out, if we believe such a message, are we to longer trust anyone because they may be rapists and murderers? And the film's ultimate message is anything but profound, and it is a message echoed throughout various literature and film throughout human history. But still Chaos is a visceral evocation of this theme that challenges any attempt to put faith in human goodness. Indeed, the fact that Chaos was created and that we watch it already knocks humanity down several levels on the goodness scale.
Al Miller
Chaos Quotes
There are no approved quotes yet for this movie.
Discussion Forum
Discuss Chaos on our Movie forum!