Alfie
(1966)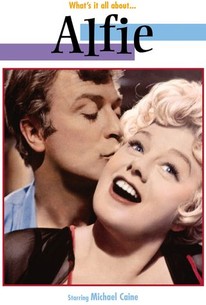 Movie Info
Michael Caine's first starring role was a foray into dramatic irony, scripted by Bill Naughton from his novel and play. Alfie (Caine) is a charming, rogueish Cockney who cannot get his fill of women. He uses them without shame or malice, jumping from one promiscuous female's bed to another without much thought or feeling. Of course, Alfie's not as carefree as he would have the audience -- to whom he often speaks directly -- think: he treats his pregnant, common-law wife, Gilda (Julia Foster), quite shabbily, and has an affair with a married woman (Vivien Merchant) that leaves her pregnant, for which Alfie arranges an abortion. In the end, Alfie never finds lasting meaning or pleasure but remains an unrepentant, if low-class, Don Juan. Caine was Oscar-nominated for his performance.
News & Interviews for Alfie
Audience Reviews for Alfie
Lucas Martins
Super Reviewer
Sorely dated not only in look but in subject matter, this film takes place in the swinging 60's of London, and a lot of the attitudes of that time are front and center. Most of the time, you think Alfie is a bastard by the way he treats his "birds," but eventually, you start to feel for him by the end. Well-shot and edited, this is real classic, but I'm sure it will turn newer viewers off.
Tim Salmons
Super Reviewer
The juvenile charisma of a thirty-something Michael Caine onscreen with all manner of woman started off as a candid comedic romp about sex in the swinging sixties. It becomes apparently clear early on that this is far from the case. A deep and distressing view of male promiscuity doesn't cover the parade of veneral disease that the title character trots out for his own soliloquied amusement. No, this was simply a character study of a very vapid and self -centered individual who comes to terms with his own centeredness through tragic sets of circumstances, including an affair with his roommate's wife, a relationship with a hitchhiker, the loss of a relationship with his only son, Malcolm, and a treasonous dupe by his latest conquest, Ruby. (Winters) Calamity abounds, but really, it was just a sad tirade of an aging lout.
Spencer S.
Super Reviewer
Alfie Quotes
| | |
| --- | --- |
| Alfie: | My understanding of women goes only so far as the pleasures. |
| | |
| --- | --- |
| Alfie: | You know what? When I look back on my little life and the birds I've known and think of all the things they've done for me and the little I've done for them, you'd think I'd had the best of it all along the line. But what have I got out of it? I've got a bob or two, some decent clothes, a car. I've got my health back and I ain't attached. But I ain't got my peace of mind. And if you ain't got that, you ain't got nothing. I don't know, it seems to me that if they ain't got you one way, they've got you another. So what's the answer? That's what I keep asking myself. What's it all about? Know what I mean? |
| | |
| --- | --- |
| Alfie: | Why him? Better than me? What's he got that I haven't? Apart from long hair. Well? Come on, let's have it. What's he bleeding got? |
| Ruby: | He's younger than you are. |
| | |
| --- | --- |
| Alfie: | Make a married woman laugh and you're halfway there with her. It don't work with the single bird. It'd start you off on the wrong foot. You get one of them laughing, you won't get nothing else. |
Discussion Forum
Discuss Alfie on our Movie forum!