Chocolate
(2008)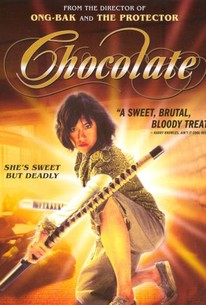 Movie Info
A kickboxing hero with a difference arises in this action saga from Thailand. Japanese mobster Masashi (Hiroshi Abe) and his Thai partner and girlfriend, Zin (Ammara Siripong), narrowly escape death at the hands of underworld boss Number 8 (Pongpat Wachirabunjong) and his bodyguard Priscilla (Sirimongkol Iamthuam), but the scuffle has unexpected consequences -- Masashi's superiors order him to return to Japan, and Zin finds she's pregnant with his child. Zin raises their daughter, Zen (Yanin Vismitananda), on her own and discovers she's autistic; one of the few things that helps bring Zen out of her inner world is chocolate, and in time the girl develops a remarkable skill in the martial arts. When Zin is diagnosed with cancer, the family cannot afford the chemotherapy that could save her life until her friend Moom (Taphon Phopwandee) comes up with a plan -- plenty of people still owe Zin money from her days as an outlaw, and with Zen as a candy-fueled enforcer, he might be able to get them to pay up and raise the funds for Zin's medical bills. Chokgohlaet (aka Chocolate) was directed by Prachya Pinkaew, who previously made several pictures starring Thai martial arts master Tony Jaa. ~ Mark Deming, Rovi
News & Interviews for Chocolate
Critic Reviews for Chocolate
Audience Reviews for Chocolate
½
[img]http://images.rottentomatoes.com/images/user/icons/icon14.gif[/img]
Directors Cat
Super Reviewer
½
An autistic young girl with a natural aptitude for martial arts uses her skills to recoup money owed to her cancer stricken mother, unaware that they were all members of the criminal underworld. The Karate Kid meets Rain Man in a film from the producers of Ong Bak, famous for the remarkable physical performance of its star that relied on pure skill rather than SFX and wire work. The fight scenes of Chocolate are similarly bone crunching and the brutal reality of the violence on show is underlined by the out-takes reel; it's painful to even watch! The major difference between the two films is the fact that the protagonist is a sweet natured girl which does away with all the usual posturing, macho bullshit that usually accompanies this kind of thing; it's a lot more fun watching a young girl matter of factly flattening bad guys than the usual testosterone soaked meat head. It also lacks the rather distasteful xenophobia of Ong Bak making it a film that's a lot easier to like. The story is daft as hell of course, but let's face it, no-one watches martial arts films for the sophisticated plot. The fight scenes are frenetic and fun, the characters likeable enough for you want to root for them and it's executed with style and enough of a leash on the more saccharine soaked elements to the story to avoid nausea. Plus I'd pay good money to see Ammara Siripong pummel Steven Seagal's smug, fat face in.
Imagine Ong-Bak or The Protector with better production values and a young girl as the main character instead of Tony Jaa. That's Chocolate, in a nut shell. As a martial arts movie, it's not bad. Zen is an autistic girl who has the amazing ability to perfectly copy the fighting moves that she sees, be they on television or from watching students practice across the street from her house. And she uses them to great effect to help her mother get the money she needs for her expensive medicine, as well as to fight off various thugs and bad guys from her mother's past. The fight scenes are pretty good, even though really the only thing separating them from the fight scenes in the movies I mentioned earlier is that the impressive attacks and acrobatics are being done by JeeJa Yanin instead of Tony Jaa. She clearly is quite talented at fight choreography and acrobatics, and she's not a bad actress, either. Playing a person with a disorder with as many variations as autism can be a tricky thing, but I think she did pretty well. My main issue with Chocolate is that it's a less brutal movie than Ong Bak, and because of that, the novelty of the unique situation of the main character is really the only thing that sets it apart from the many other decent martial arts flicks that are available. It's solid fun the first time around, but there's not enough here to warrant additional viewings.
Chocolate Quotes
There are no approved quotes yet for this movie.