Tokyo!
(2008)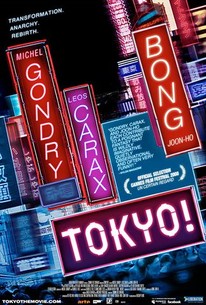 TOMATOMETER
AUDIENCE SCORE
Critic Consensus: An imaginative, if uneven, love letter to a city that signals a great creative enterprise by its three contributing directors.
Movie Info
Triptych feature telling three separate tales set in Tokyo, Japan. "Shaking Tokyo" centers on a man who has lived for 10 years as a hikikomori, (a term used in Japan for people unable to adjust to society and so they never leave their homes) and what happens when he falls in love one day with a pizza delivery girl. "Interior Design" follows the story of a wannabe movie director who arrives in Tokyo with his girlfriend only to find that parts of her bones are turning into wood. "Merde" concerns a hideous, Gollum-like humanoid that emerges from the sewers of Tokyo. After wreaking some mild havoc, the creature is captured and interrogated by the authorities. Merde, as this terrorist calls himself, baldly indicts the people of Japan as "disgusting," and the ending suggests that future cities are ripe for harassment.
News & Interviews for Tokyo!
Critic Reviews for Tokyo!
Audience Reviews for Tokyo!
Seems like everyone rates these 3 mini-films differently, so my rating is .... Carax one star, Gondry two stars and Bong three stars and none of em worth much jumping up and down about unless your name's Zebedee.
½
Since Paris has an anthology film on the theme of love, Tokyo gets one on the theme of weirdness, from Michel Gondry, Leos Carax, and Bong Joon-ho. Three segments: the girlfriend of an experimental filmmaker feels useless until she undergoes an inexplicable metamorphosis; a shambling man-creature named Merde rises from the sewers to wreak havoc on Tokyo; a shut-in falls for a girl with buttons tattooed on her body. The best segment by a wide margin is Carax's "Merde": genuinely funny, it's like one of those experimental Saturday Night Live sketches about an uncomfortably strange character who harasses the people around him, except it doesn't grow wearisome after two minutes.
"Tokyo!" is an uneven triptych of short films set in the title city with an emphasis on urban angst, following a thematic progression. All are made by non-natives, Michel Gondry(Interior Design), Leos Carax(Merde) and Bong Joon-ho(Shaking Tokyo). The middle section is the worst and at times unwatchable, and does nothing to change my already negative opinion of Leos Carax. In "Interior Design," Akira(Ryo Kase), a neophyte filmmaker in town to present a film, and his girlfriend Hiroko(Ayako Fujitani), crash at their friend Akemi's(Ayumi Ito) cramped apartment, promising that it will only be until they can find an apartment of their own. That does not turn out to be as easy as it sounds, as they also have to worry about finding jobs and a parking space. And then things get weird. If that is not bad enough, in "Merde," a savage man(Denis Lavant) is a nuisance to pedestrians. Things get worse when he locates a cache of grenades from World War II. At which point, it is perfectly understandable if you just want to stay inside all of the time which a man(Teruyuki Kagawa) has been doing for the past eleven years in "Shaking Tokyo," keeping his garbage very, very tidy. He remains isolated from his fellow human beings until he makes a connection with a pizza delivery girl(Yu Aoi) by pressing some of her buttons.
Tokyo! Quotes
There are no approved quotes yet for this movie.