Cleopatra
(1963)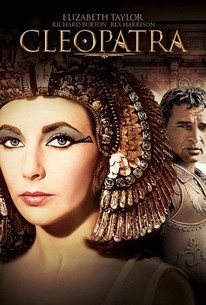 Movie Info
In 1963, this colossal and opulent $60 million spectacular was epic in every sense of the word -- an epic investment, an epic in the annals of Hollywood gossip, and, ultimately, an epic flop that nearly dragged 20th Century Fox down the Nile along with Cleopatra's barge. Handsomely mounted by Joseph L. Mankiewicz, who replaced Rouben Mamoulian as director after six days of shooting), the drama follows the eighteen tumultuous years that led to the founding of the Roman Empire. Cleopatra (Elizabeth Taylor) meets up with Julius Caesar (Rex Harrison) and plans to lure Caesar to her boudoir in order to forge an alliance with Rome so that she may hold on to her Egyptian empire. When Caesar is stabbed to death in the Roman Senate, Cleopatra is left without an ally, and Egypt is up for grabs. When Roman general Mark Antony (Richard Burton) comes along, she seduces him in order to make him over into her new protector. But, under the charms of Cleopatra, Mark Antony is reduced from a an awesome and dominating general to a sniveling, drunken wimp. At the Battle of Actium, Mark Antony is defeated and Cleopatra withdraws her troops, dooming Mark Antony and his army. With Egypt in peril, Antony and Cleopatra, the doomed lovers, meet each other for the last time, as the enemy forces close in. ~ Paul Brenner, Rovi
News & Interviews for Cleopatra
Critic Reviews for Cleopatra
Audience Reviews for Cleopatra
½
Classic epic film from director Joseph L. Mankiewicz , Cleopatra upon its release was an ambitious film with a larger than life production. This is not a perfect film, but is one that boasts a well layered story, matched by some strong performances by Elizabeth Taylor and Richard Burton. What is very impressive with the film of course, the set designs, costumes and sheer scope of the film. Cleopatra is a richly detailed picture that is bold in its vision, and the performances match the look of the film. The most common complaint of the film is that, it's very long, and that it may be a hard film to get into because of it. Cleopatra has a terrific story and is aided by a broad cast of talented actors. However I also felt that compared to other epics of this style such as Ben-Hur, Cleopatra tries to be far too ambitious than it needed to be. In doing, the film becomes tedious; however the performances should keep you involved. The film is very long, like I've stated earlier, and I think the film could have been shortened a bit as well and if it would have been simply a 3 hour film instead of a nearly 4 hour film, then maybe this film would really have been something. Cleopatra is a very good film that is well acted, directed and paced, but it's also ambitious in its scope, and it's a picture that suffers more from its length than anything else. Despite this, Cleopatra is a big film, and tells a great story, if only the filmmakers would have trimmed an hour or so from the film, then Cleopatra would have truly been something to watch. However, despite its flaws, the sheer grandeur of the film can't be ignored and everything from the performances to the look of the film of the film is truly great and unique. If you enjoy big epics, Cleopatra is one that you should watch, but be warned this is nearly four hours in length. I enjoyed the film and thought it was a very well crafted film, and in terms of epic filmmaking, Cleopatra is certainly one of the largest film productions that I have seen. With a good story, this is a must watch, but due to its length it's not worth revisiting again and again.
Strange now as the film was eclipsed by the love affair it started, so that one now views: 1) the story of Antony and Cleopatra, a real life tragedy for the ages, 2) the Hollywood film to that effect, a tragedy all by itself, and then 3), the two souls playing the leads, Taylor and Burton, who would go on to nearly live what first they merely played at doing, or tried to live it, or something. They recite lines to each other that they couldn't know was their future and yet we now know as true ... chilling. Opulent to the extreme, a pompous film, bullying, and finally ... perhaps more than merely memorable, a tragedy.
Kevin M. Williams
Super Reviewer
Oh wow, this movie was really, really long. About 4+ hours long. But the costumes were beautiful, Elizabeth was beautiful and the story was very romantic, in a let me gain power kind of way and a bit Romeo and Juliet. Rex Harrison is just too English, I love him, but he did not make a good Caesar. Everyone should see this classic.. at least once.
Alexis Nomm
Super Reviewer
Cleopatra Quotes
There are no approved quotes yet for this movie.
Discussion Forum
Discuss Cleopatra on our Movie forum!