Cutting Class
(1989)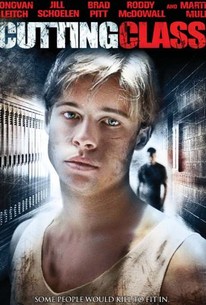 Movie Info
A series of deaths at a high school turn out to be murder, as a young delinquent (Donovan Leitch) -- sent to a home after killing his father -- is returned to class.
Critic Reviews for Cutting Class
Audience Reviews for Cutting Class
Cutting Class like a few horror films of the 80's relies heavily on an overused idea, and by the films release in 1989, The slasher flicks were getting weaker. Cutting Class is nothing new and it doesn't try to be anything original. The film is a collection of old and used ideas that we've seen many times before. We've seen it before, and we've seen better. The film was one of Brad Pitt's debut features, and luckily for him he turned out to have a pretty good career. With this film, it's obvious he wanted to try to make it, but for me he really managed to start acting good in Interview With The Vampire. I haven't seen Thelma & Louise, and its his breakout role, but I'll have to judge him by his earlier efforts that I have seen. The film like I've said does nothing new and the dialogue and acting leaves a lot to be desired. But for what it is, and if you love cheesy B movie, then check out Cutting Class. The film is worth seeking out for some mindless entertainment and if you loved Slaughter High, then this film navigates similar territory, but doesn't really have anything great going for it. The film is good, but Slaughter High was superior, and much more violent. I see Cutting Class as a bad leftover from the Sleepaway Camp and Prom Night series. The acting is terrible, the story lifts almost from the first Prom Night IMO. The film is scrapping the bottom of the barrel, yet there's something that I love about the film, maybe it's because it's so cheesy and over the top thats what makes it a fun film to watch. Don't expect much while watching Cutting Class, but what you can expect is a lot of cheesy fun, think the cheesiest 80's Slashers all rold into one and turn off your brain and try to enjoy this golden piece of shit.
½
This movie is often ignored by horror fans, but pretty underrated. Yes its cheesy and yes the only reason most people will pick it up in a video store is because Brad Pitt is on the cover but it does have a huge overall entertainment factor. The story is typical of 80s teen slashers, and the movie does have a strong likeness to Prom Night, Slaughter High and Return to Horror High, which isn't a bad thing. The acting is OK but the story is very good, and the sense of 'whodunnit' is very gripping (nearly as good as Scream). When the killer is revealed in the grand finale, the final battle of good and evil begins in one last fight!!! Its pretty darn good and if you have any hesitations in seeing it...just watch it and i'm sure you won't be disappointed!
Cassandra Maples
Super Reviewer
decent cast, somewhat entertaining..
Chosen 718
Super Reviewer
Cutting Class Quotes
| | |
| --- | --- |
| Paula Carson: | "Not until your grades improve" |
| Paula Carson: | Not until your grades improve. |
| Dwight Ingalls: | "At that rate, we'll never do it" |
| Dwight Ingalls: | At that rate, we'll never do it. |