Detour
(1945)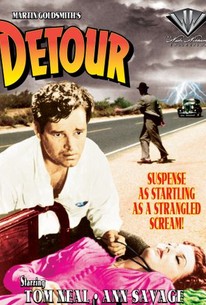 Movie Info
Detour, called by many the ultimate "film noir," made on a shoe-string budget, and utilizing "night-for-night cinematography, creates a bleak, uncompromising, pessimistic nightmare world where its inhabitants can expect neither mercy, sympathy or justice. Al Roberts (Tom Neal) is the piano player in a sleazy New York nightclub. Sue (Claudia Drake) his girlfriend seeking stardom, leaves for Hollywood. Al follows, hitching a ride with a talkative, drug-addicted businessman who mysteriously dies during the trip. Al, frightened that he will be blamed for the death, hides the body in a ditch and assumes the businessman's identity. Needing company, Al picks up Vera (Ann Savage), a fellow hitchhiker who knows of Al's deception. Vera, hostile, agressive and with an annoying, nagging voice might be one of the most unbearably unpleasant female characters in a genre which celebrates wicked women. She blackmails Al, leading to one of the most memorable death scenes in film history. Directer Edgar G. Ulmer, limited to a six day shooting schedule, while crude and lacking in finesse, succeeds in creating a memorable, dark, nightmare world, uncaring, cynical and brutal. Detour is a bleak gem which has gained well-deserved cult status.
Critic Reviews for Detour
Audience Reviews for Detour
½
Pleasantly short and well-constructed, Detour may not be the most memorable work of film noir, however it is well-acted and features an intriguing plot. It's fun to watch and follow, especially due to Savage's great performance.
Matthew Samuel Mirliani
Super Reviewer
½
This film, labeled a B-movie noir, has become a cult classic and has been historically preserved for future generations. The film is often downgraded to B-movie status for its short running time and its fast pace, but the film is concrete and tight when it comes to the plot, the calculated action, and suspense. The cast includes unknowns who each give astounding performances filled with wit and danger. The entire film feels like a sad, methodical episode of "The Twilight Zone" and yet remains grounded in real life circumstances. The lead actor, Tom Neal, plays Al, a pianist who is hitchhiking across the country so he can reunite with his girlfriend in Hollywood. They've already said their goodbyes and split, so at least it doesn't start with him being optimistically happy. Things go from bad to worse as Al is picked up by a wealthy man in his car and driven near his destination. The problem is that the man suddenly dies for no apparent reason, and Al fears that he will be charged with the man's murder unless he disappears completely. His ill-chosen decision leads to him being extorted by a bothersome hitchhiker herself, who doesn't adhere to regular noir rules. His tale ends in travesty as he keeps making the wrong decision time and again, and as he continues to run and lets himself get extorted by Vera (Ann Savage) his fate becomes more and more certain. The entire film is one long tirade against Tom as he fights to get to Hollywood, tries to find some semblance of happiness, and yet he can't escape one simple mistake that wasn't even his own fault. The film moves so fast that you're not sure where the action is going to come from next, it's gritty, doesn't play by the rules of many of the previous noir films, and it tells a story that seems old as time but feels as gut wrenching and spell binding as ever.
Spencer S.
Super Reviewer
I, and thousands of others, have been obsessed with Detour since we first saw it. This seedy, NO-budget noir flick is chock full of every type of physical and story telling flaw, yet somehow magic lightning is a captured in a cracked, dirty bottle. Somehow all this film's limitations are tranformed into strengths with the German expressionist vision of iconic expatriate director Edgar Ulmer, who knows how to make an audience care and transfix. Ulmer turns every moment of this story into something allegorical that any of us flawed humans can relate to. For me, the theme of this film is how people who have every opportunity to escape a self destructive situation, choose to stay and let it play out, to our own destruction. In the story, honky tonk piano player Al Roberts (Tom Neal), broke, is going to follow a singer, Claudia Drake, the woman he loves to LA. Hitchhiking, his driver dies in an accident, Al hides the body and steals the car, never alterting the cops to the tragedy. Going even further down the degradation highway, Al picks up another mysterious hitchhiker, an angry, toxic femme fatale (Ann Savage) with some conection to the dead man. They hole up in a cheap hotel, in mutual self destructive hate, they go down to their horrible doom. To start with, the cast of limited actors, protagonist Tom Neal and femme fatale Ann Savage, take such a sincere, direct approach to their self inflicted pain. that they are utterly mezerizing. The fact that a fog machine covers up for having zero scenery budget, gives the film a timeless allegorical feel. The flipped negative with the driver's seat consistently on the wrong side gives the film a hallucinogenic, dream quality, the cheesy jazz song 'I Can't Believe That You're In Love With Me' has a haunting melody and is appropriately self depracating I could go on, the film is so full of limitations. It is full of memorable classic film noir lines, though. "There oughtta be a law against dames with claws', etc. In short, don't miss this unforgettable piece of weird, accidental genius, and note: it's available for free online. It would be great if someone found a good print and released a digitally remastered version, but its numerous scratches and pieces of hair on the lens add to Detour's seedy mystique. I'm looking forward to seeing it again.
Josh Morris
Super Reviewer
Discussion Forum
Discuss Detour on our Movie forum!