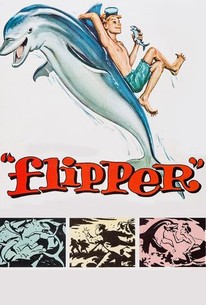 Flipper
1963, Adventure, 1h 30m
6 Reviews
25,000+ Ratings
Where to watch
Rent/buy from $3.99
Rent/buy from $2.99
Rent/buy from $2.99
Rate And Review
Movie Info
In the Florida Keys, local 12-year-old boy Sandy Ricks (Luke Halpin) comes across a dolphin that has been pierced by a harpoon. Rushing to help the poor animal, Ricks saves the dolphin's life, cares for it until it regains its health and names it Flipper. Having grown close to Flipper through the healing process, Sandy is disheartened when his fisherman father (Chuck Connors) wants Flipper to return to the ocean. However, their bond proves itself once more in another life-saving moment.
Audience Reviews for Flipper
What can I say? Love Flipper, watched reruns of the show religiously for years, and will watch any Flipper movies. I grew up watching the Flipper TV series and it was always one of my favorites, so I couldn't wait to see the original movie that's humbly called "Flipper." It shows how Flipper earned his name and how he met his best friend named Sandy. I liked this movie, but I don't like it as much as I like "Flipper's New Adventure." You won't see Flipper make any rescues this first time around, and he doesn't have the same 'voice' as he has in the series, but you will see the smart dolphin do plenty of tricks and show that he had a huge brain even in his first outing. If you've ever liked the TV series or even if you haven't ever seen it, but you like dolphins or just good movies, I recommend getting "Flipper." It'd probably be especially good for kids of any age to watch, and possibly a good family movie. To make it short, it'd be a good buy. NOTE: That was my Amazon review from the year 2001. "Flipper's New Adventure" is the best Flipper movie ever. This one is the worst.

ive seen a flipper starring elijah wood and i thought it was a very warm hearted and interesting film very good

Worth watching for Chuck Conners. Great movie? Hardly. Good photography and some interesting time capsule moments, such as when Sandy loads the family's shotgun with ammo in the chest of drawers and goes out in a small boat by himself with a loaded shotgun. He's 12. I don't think you'd see that in a movie these days, especially one aimed at children.