Flipper
(1963)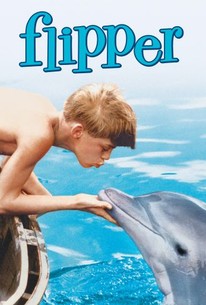 Movie Info
A boy and his dolphin are soon parted after Sandy (Luke Halpin) saves an injured dolphin from a potentially deadly harpoon. Flipper is nursed back to health and Sandy wishes to keep the dolphin as a family pet. Sandy's dad Porter (Chuck Conners) is the fish farmer who convinces him Flipper was meant to live in the wild of the ocean and not at the lagoon by their landlocked home. Sandy lets Flipper loose, expecting never to see the dolphin again. When a menacing shark threatens to attack Sandy, the dedicated dolphin attempts to rescue the boy who saved his life from the deadly jaws of the aquatic monster. Halpin and Flipper later would reprise their roles in the popular television program of the same name.
Critic Reviews for Flipper
All Critics (5) | Fresh (2) | Rotten (3)
Good family movie is not just another fish story...or maybe it is.
January 5, 2005 | Rating: 3/5
a sunny windswept antidote to endless helpings of frantic Japanimation
Audience Reviews for Flipper
Worth watching for Chuck Conners. Great movie? Hardly. Good photography and some interesting time capsule moments, such as when Sandy loads the family's shotgun with ammo in the chest of drawers and goes out in a small boat by himself with a loaded shotgun. He's 12. I don't think you'd see that in a movie these days, especially one aimed at children.
Morris Nelms
Super Reviewer
½
What can I say? Love Flipper, watched reruns of the show religiously for years, and will watch any Flipper movies. I grew up watching the Flipper TV series and it was always one of my favorites, so I couldn't wait to see the original movie that's humbly called "Flipper." It shows how Flipper earned his name and how he met his best friend named Sandy. I liked this movie, but I don't like it as much as I like "Flipper's New Adventure." You won't see Flipper make any rescues this first time around, and he doesn't have the same 'voice' as he has in the series, but you will see the smart dolphin do plenty of tricks and show that he had a huge brain even in his first outing. If you've ever liked the TV series or even if you haven't ever seen it, but you like dolphins or just good movies, I recommend getting "Flipper." It'd probably be especially good for kids of any age to watch, and possibly a good family movie. To make it short, it'd be a good buy. NOTE: That was my Amazon review from the year 2001. "Flipper's New Adventure" is the best Flipper movie ever. This one is the worst.
Jason Owens
Super Reviewer
½
ive seen a flipper starring elijah wood and i thought it was a very warm hearted and interesting film very good
Film Crazy
Super Reviewer
Flipper Quotes
There are no approved quotes yet for this movie.